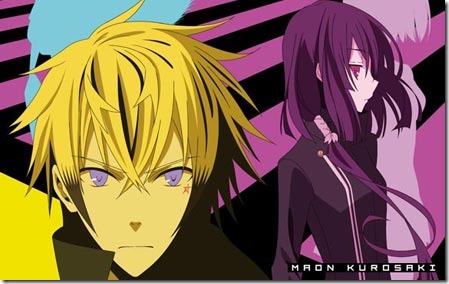 Maon Kurosaki's 3rd album REINCARNATION has more new songs and promo video revealed. The Tokyo Ravens tribute album so far as revealed 4 of its 10 songs with Maon Kurosaki (黒崎真音) writing the lyrics for all tracks and collaborating with Takase Kazuya (高瀬一矢) on 6 (5 new) songs and the anime's music director Iuchi Maiko (井内舞子) on 4 new songs. Album REINCARNATION comes on three editions releasing July 23rd 2014 – read on for more details and song previews.
The album includes Maon Kurosaki's 6th single X-encounter (2013.11.06), opening theme for anime Tokyo Ravens and the first collaboration with Maon Kurosaki and sound creator Takase Kazya. Sound creation group I've Sound has been providing anime, game, and other music since 1998 with founder Takase Kazya and Iuchi Maiko composing and arranging. The group has included vocalists MELL, KOTOKO, and Mami Kawada.
Several release events celebrating the new album REINCARNATION are planned with participation ticket tied to Limited editions purchases at target stores,
– July 23rd 2014 6:30pm handshake meeting Animate Yokohama (Akihabara, Machida, Ikebukuro)
– July 26th 2014 12:30pm handshake meeting Sofmap Akiba
– July 26th 2014 3:30pm autograph session Animate Shibuya (Akihabara)
– July 26th 2014 6:00pm handshake meeting Tsutaya Shibuya
– July 27th 2014 12:30pm handshake meeting Gamers Akihabara (Ikebukuro, Shinjuku)
– July 27th 2014 3:30pm autograph session Animate Shinjuku (Akihabara)
– July 27th 2014 7:00pm handshake meeting Tower Records Shinjuku
– Aug 2nd 2014 12:30pm autograph session Animate Machida
– Aug 3rd 12:30pm handshake meeting Animate Tachikawa
Album REINCARNATION comes on three editions (details subject to change). Limited editions include a new Tokyo Ravens short story written by creator Azano Kouhei. First Press versions of Limited and Regular editions include a flyer for entry into lottery for ticket to attend one of two special live events, MAON KUROSAKI Special Live WINGS OF EDEN #0,
– Sept 7th 2014 Shibuya SOUND MUSEUM VISION
– Sept 20th 2014 FANJ Kyoto
Additional purchase bonus at most stores: Gamers, HMV, Sofmap (photo), Neowing (b3-size double sided Maon Kurosaki x Tokyo Ravens poster), more bonuses vary by store – check your store for bonus availability.
Full track list coming – follow Comtrya Sugoi for updates.
Audio previews for songs follow and new album PV plus previously released short music video for X-encounter below the release details.
Maon Kurosaki – REINCARNATION – release date July 23rd 2014
Limited A [CD+BD] (¥3800)


Limited B [CD+DVD] (¥3400)


[CD]
1. X-encounter
2. Autonomy
(preview)

3. ALGO ~ Who Knows It? ~
(preview)

4. fixxx and lie
(preview)

5- 10. undecided
[BD]
1. X-encounter animated music video by Ishihama Masashi (Tokyo Ravens) 
2. X-encounter (music video)
3. Tokyo Ravens textless OP

[CD]
1. X-encounter
2. Autonomy
3. ALGO ~ Who Knows It? ~
4. fixxx and lie
5. – 10. undecided
[DVD]
1. X-encounter animated music video by Ishihama Masashi
2. X-encounter (music video)
3. Tokyo Ravens textless OP
Regular [CD] (¥2800)


[CD]
1. X-encounter
2. Autonomy
3. ALGO ~ Who Knows It? ~
4. fixxx and lie
5. – 10. undecided
Maon Kurosaki official website