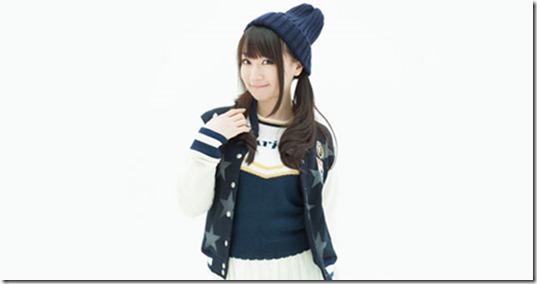 Nana Mizuki (水樹奈々) new single Eden (エデン) includes four new songs each having a tie-up – No Limit opening theme for anime DOG DAYS season 3 (DOG DAYS"), Shumatsu no Love Song (終末のラブソング) the 2nd ending theme for anime CROSS ANGE, Necessary used as insert song for anime CROSS ANGE, and title song Eden with tie-up as the theme for NTV Sukkiri!! during January 2015 and the animelo mix TV-CM campaign. Her 31st single comes on one CD-only edition releasing January 14th 2015. Details and new music video (short ver.) for Eden follows.
Nana Mizuki (34) continues voicing character Ricotta Elmar in the upcoming 3rd season of anime DOG DAYS. She also provided the opening themes SCARLET KNIGHT (2011.04.13, 23rd single) and FEARLESS HERO (2012.08.01 coupling track 28th single) for anime DOG DAYS first and second seasons respectively.
Original anime DOG DAYS follows athletic but regular boy Izumi Shinku who is summoned to the world of Flonyard by Princess Millhoire of the Biscotti Republic. Overcoming the shock of being in a different world he learns his destiny as the hero to defend Biscotti from attacking neighboring countries. Season 3 takes place 3 months after the events of season 2.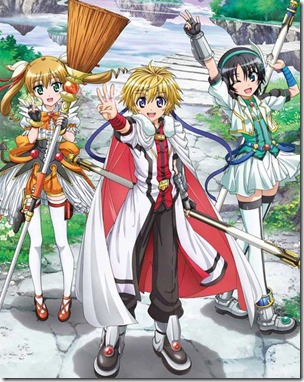 The anime features a strong cast – in addition to Nana Mizuki it features Yui Horie (Millhoire) and Mamoru Miyano (Izumi Shinku) with Aoi Yuuki (Kuberu), Ayana Taketatsu (Éclair), and Uesaka Sumire (Sharu). DOG DAYS" begins airing January 10th 2015 in Japan and outside of Japan provider Crunchyroll has season 1 & 2 available on-demand and will hopefully simulcast season 3 (not official).
As with the first two seasons Yui Horie provides the anime's ending theme this time with new single Stay With Me.
Nana Mizuki's 31st single comes on one CD-only edition. She writes the lyrics for songs Eden, No Limit, and Shumatsu no Love Song! First Press version has deluxe packaging.
Music video (short version) for Eden and new TVCM spots for anime DOG DAYS'' after the release details.
Nana Mizuki – Eden – release date January 14th 2015
Regular [CD] (¥1200)


[CD]
1. Eden (theme Sukkiri!!, animelo mix)
lyrics: Nana Mizuki, composer: Fujimori Shinichi, arranger: Fujima Hitoshi (Elements Garden) 

2. No Limit (OP DOG DAYS")
lyrics: Nana Mizuki, music: Suyama Jun

3. Shumatsu no Love Song (ED2 CROSS ANGE)
lyrics: Nana Mizuki, composer: Yoshiki Eriko, arranger: Fujima Hitoshi

4. Necessary (insert song CROSS ANGE)
lyrics: Matsui Goro, composer: Zetta, arranger: EFFY
Nana Mizuki Official website Nana Party