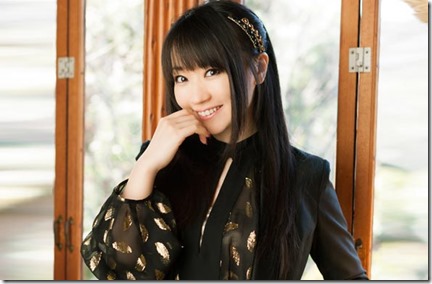 Nana Mizuki has added more details for new album SUPERNAL LIBERTY – jacket covers, full track list, and bonus details unveiled. Her 10th original album includes single Vitalization, new songs, and more for 14 total tracks. Album SUPERNAL LIBERTY comes on three editions hitting stores April 16th 2014 – all the details follow.
The album includes new song Appassionato featured as opening theme for TBS TV show CDTV for April – the song is written and composed by Nana Mizuki. Also new song Million Ways = One Destination has tie-up as the smartphone version of game Kairisei Million Arthur.
Most recently Nana Mizuki released 29th single Vitalization on July 31st 2013. The title song has tie-up as the opening theme for anime Symphogear G and coupling track Ai no Hoshi (included on new album) has tie-up as the ending theme for anime movie series Space Battleship Yamato 2199 (Chapter 7).
Nana Mizuki since her last original album ROCKBOUND NEIGHBORS (2012.12.12) formed a special unit T.M.Revolution x Nana Mizuki which released two singles in 2013, Preserved Roses and Kakumei Dualism used as the opening themes for anime Valvrave the Liberator (Kakumeiki Valvrave).
Special launch events are planned for her 10th album with ticket lottery participation via serial number included with each edition of the new album. The events will be talk and handshake with entry deadline April 20th 2014,
– April 25th Yamaha Hall Tokyo (3 events)
– April 26th TB Hall Osaka (3 events)
– April 27th Diamond Hall, Nagoya (3 events)
10th album SUPERNAL LIBERITY comes on three editions,
– Limited with Blu-ray containing documentary footage live event Natsu no Kakera ~ Nana Mizuki 2013 Natsu no Dekigoto   and album photo shoot (130min). Includes deluxe packaging, photo booklet, and launch event serial number.
– Limited with DVD some contents as BD. Includes deluxe packaging, photo booklet, and launch event serial number.
– Regular CD-only. First Press includes launch event serial number.
Unrelated to new album but watch Nana Mizuki in new PR video for prefecture Seto Inland Sea in Ehime prefecture and Hiroshima prefecture after the release details.
Nana Mizuki – SUPERNAL LIBERTY – release date April 16th 2014
Limited [CD+BD] (¥3600)


Limited [CD+DVD] (¥3600)


[CD]
1. VIRGIN CODE
2. GUILTY
3. Appassionato
4. Egao no Yukue
5. Antique Nacht Musik
6. Fun Fun★People
7. FATE
8. Vitalization – Aufwachen Form –
9. Aishu Twilight
10. Setsuna Capacity
11. Ladyspiker
12. Rock you baby!
13. Million Ways = One Destination
14. Bokura no Mirai
15. Ai no Hoshi – two hearts –
[BD]
1. Documentary Nana Mizuki live event Natsu no Kakera ~ Nana Mizuki 2013 Natsu no Dekigoto
2. Jacket cover photo shoot
[CD]
1. VIRGIN CODE
2. GUILTY
3. Appassionato
4. Egao no Yukue
5. Antique Nacht Musik
6. Fun Fun★People
7. FATE
8. Vitalization – Aufwachen Form –
9. Aishu Twilight
10. Setsuna Capacity
11. Ladyspiker
12. Rock you baby!
13. Million Ways = One Destination
14. Bokura no Mirai
15. Ai no Hoshi – two hearts –
[DVD]
1. Documentary Nana Mizuki live event Natsu no Kakera ~ Nana Mizuki 2013 Natsu no Dekigoto
2. Jacket cover photo shoot
Regular [CD] (¥2800)


 
[CD]
1. VIRGIN CODE
2. GUILTY
3. Appassionato
4. Egao no Yukue
5. Antique Nacht Musik
6. Fun Fun★People
7. FATE
8. Vitalization – Aufwachen Form –
9. Aishu Twilight
10. Setsuna Capacity
11. Ladyspiker
12. Rock you baby!
13. Million Ways = One Destination
14. Bokura no Mirai
15. Ai no Hoshi – two hearts –