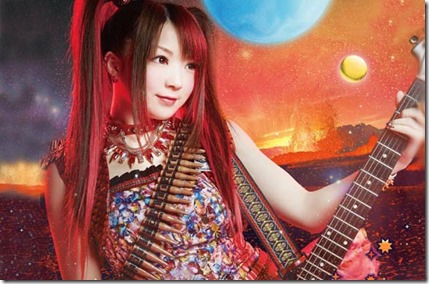 Ray is getting ready to release new album Milky Ray and jacket covers along with a preview music video unveiled. Her 2nd album includes singles, lull ~ Soshite Bokura wa ~ and ebb and flow both featured as OP themes for anime Nagi no Asukara plus new songs and more for 13 total tracks. Album Milky Ray hits stores June 4th 2014 – updated details and PV for new song Yawa Janai DID!! Catch me! To LOVEru follow…
New song Yawa Janai DID!! Catch me! To LOVEru has tie-up as the theme song for PS Vita game To LOVEru Darkness Battle Ecstasy. More game details at special website (link below)
Ray debuted about two years ago with five singles, all featured as anime opening/ending themes, and album RAYVE (2013.06.06) released since.
To celebrate new album Milky Ray a set of release events are planned each connected to target store of purchase,
– June 4th 2014 5:15pm & 7:15pm autograph & handshake meetings respectively Animate Akihabara
– June 7th 2014 12:45pm autograph Animate Shizuoka
– June 7th 2014 4:45pm handshake Animate Nagoya
– June 8th 2014 11:45am autograph Animate Tennoji
– June 8th 2014 4:30pm talk & mini-live Animate Osaka Nihonbashi
[more planned see Ray's official website for more details (link below)]
Album Milky Ray comes on two editions. The Limited includes sleeve jacket and artist photo (1 of 5) and Regular edition First Press includes artist photo (1 of 5).
Ray – Milky Ray – release date June 4th 2014
Limited [CD+DVD] (¥3800)


Regular [CD] (¥3000)


[CD]
1. lull ~ Soshite Bokura wa ~
2. Yawa Janai DID!! Catch me! To LOVEru
3. Magical Kakumei Girl Rainy Ray
4. Ganbaru na! Boys & Girls
5. twin portion
6. You're my jewel
7. a-ha…!
8. Nooten KICK VOICE
9. I'm MONSTER-chan
10. Cocoa Pot City
11. fragment love
12. ebb and flow
13. lull ~ Earth color of the calm ~
[DVD]
1. Yawa Janai DID!! Catch me! To LOVEru (music video)
2. making-of music video
3. Dance Collection
– lull ~ Soshite Bokura wa ~
– Yawa Janai DID!! Catch me! To LOVEru
– I'm MONSTER-chan
4. RAYVE 01 ~ Ray's magic castle ~ live
– Over ride
– Recall
– baby macaron
– As for me
– Rakuen PROJECT
– sign
5. TVCM spot(s)
[CD]
1. lull ~ Soshite Bokura wa ~
2. Yawa Janai DID!! Catch me! To LOVEru
3. Magical Kakumei Girl Rainy Ray
4. Ganbaru na! Boys & Girls
5. twin portion
6. You're my jewel
7. a-ha…!
8. Nooten KICK VOICE
9. I'm MONSTER-chan
10. Cocoa Pot City
11. fragment love
12. ebb and flow
13. lull ~ Earth color of the calm ~
Ray official website (NBC Universal Rondo Robe)