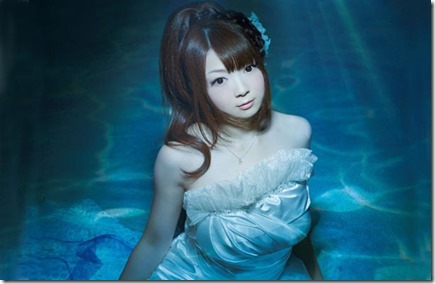 Ray has revealed more details for new single ebb and flow -  jacket covers and teaser music video unveiled. Her 5th single gets tie-up as then second opening theme for anime Nagi no Asukara. Single ebb and flow two editions hits stores February 5th 2014 – updated details and PV follow.
Ray provided the anime Nagi no Asukara's first opening theme with her 4th single lull ~ Soshite Bokura wa ~. Ray debuted a bit less than two years ago and has released four singles all featured as anime opening/ending theme and she released her first album RAYVE on June 6th 2013.
Anime Nagi no Asukara is an original project from studio P.A. WORKS and publisher Dengeki Daioh. Long ago humans protected by the sea god lived in the sea. As time past most humans cast aside the sea and moved to live on the land forgetting of their sea origins. But now middle school student Tsumugu Kihara meets and befriends four students who live in a village at the bottom of the sea.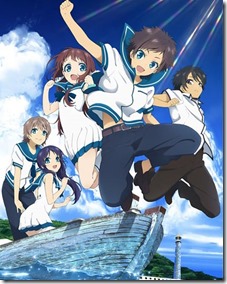 The anime started airing October 3rd 2013 on Tokyo MX in Japan and continues this winter with 26 total episodes planned. Outside of Japan Crunchyroll is simulcasting the anime. Check our Crunchyroll updates page or hit the link for Nagi no Asukara for episodes and related stories.
The anime's first ending theme is provided by Nagi Yanagi with her 6th solo single Aqua Terrarium (more details) and she's back with second ending theme Mitsuba no Musubime set for release on February 19th 2014 (more details).
To support her new single Ray is holding several launch events with event tickets given to purchasers of her new single at target stores,
– Feb 5th 6:30pm Gamers Akihabara handshake (includes Ikebukuro, Shinjuku, Omiya)
– Feb 8th 10:30am Animate Kumagai handshake (includes Omiya, Takasaki)
– Feb 8th 3:30pm Animate Mito handshake 
– Feb 9th 1:30pm Animate Shibuya handshake (Akihabara, Shinjuku, Ikebukuro)
– Feb 11th 12:30pm & 2:30pm Sofmap Akihabara mini-live, talk
– Feb 15th 12:30pm & 3:30pm Animate Nagoya handshake, autograph
– Feb 16th 12:30pm & 3:30pm Animate Tennoji handshake, autograph

Ray's 5th single ebb and flow comes on two editions and includes song "Nagi" featured as the early image song for the anime plus a second coupling track not yet titled,
– Limited with DVD that includes music video, making-of footage, TV-spots, and more.
– Regular CD-only.
Selected stores include a bonus photo on either edition – varies by stores and while supplies last,
Music video teaser and original trailer for anime follow after the release details.
Ray – ebb and flow – release date February 5th 2014
Limited [CD+DVD] (¥1800) 


Regular [CD+DVD] (¥1200) 


[CD]
1. ebb and flow
2. undecided
3. Nagi (image song)
4. ebb and flow (off vocal)
5. undecided (off vocal)
6. Nagi (off vocal)
[DVD]
1. ebb and flow (music video)
2. ebb and flow (off shoot)
3. TV spot(s)
4. undecided
[CD]
1. ebb and flow
2. undecided
3. Nagi (image song)
4. ebb and flow (off vocal)
5. undecided (off vocal)
6. Nagi (off vocal)
Ray official website (Rondo Robe)