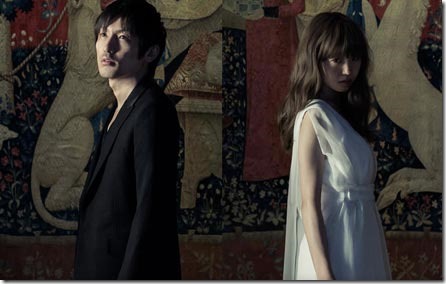 SawanoHiroyuki [nZk] (Sawano Hiroyuki) and Aimer have announced a special album UnChild. Many of the songs debuted during special lives UnChild commemorating their collaboration on Mobile Suit Gundam UC Unicorn (episode 7 – Over the Rainbow) theme song StarRingChild. Album UnChild comes on two editions hitting stores June 25th 2014 – more details follow.
Music composer Sawano Hiroyuki (澤野弘之) well known for providing the music for anime (Mobile Suit Gundam UC, Attack on Titan, Kill la Kill) and several live action movies. Newly performing as SawanoHiroyuki [nZk], he also collaborated with Aimer on her 5th single RE: I AM EP (2013.03.20) theme song for the 6th installment of Mobile Suit Gundam UC Unicorn.
Singer Aimer is also releasing her 2nd album Midnight Sun simultaneously on June 25th 2014 (more details).
Also announced Sawano Hiroyuki will provide the ending theme as well as the music for upcoming anime Aldnoah.ZERO.
Sawano Hiroyuki's second live event SawanoHiroyuki [nZk] 002 is planned for September 12th 2014 6:00pm at Zepp Tokyo. Ticket lottery for those submitting applications included with new album. General release July 20th 2014.
Album UnChild comes on two editions with all song lyrics in English including re-written versions of RE:I AM and StarRingChild. Limited includes Gundam UC drawn jacket, two Gundam UC stickers, and application for ticket pre-order tolive event. Regular First Press also includes the ticket application.
SawanoHiroyuki [nZk] (Sawano Hiroyuki) feat. Aimer – UnChild – release date June 25th 2014
Limited Pressing [CD] (¥3148)


Regular [CD] (¥2778)


[CD]
1. UnChild
2. StarRingChild -English ver.-
3. A LETTER
4. Destiny
5. But still…
6. Just say good bye
7. Next 2 U
8. bloody f8
9. REMIND YOU
10. EGO
11. Because we are tiny in this world
12. RE:I AM -English ver.-
[CD]
1. UnChild
2. StarRingChild -English ver.-
3. A LETTER
4. Destiny
5. But still…
6. Just say good bye
7. Next 2 U
8. bloody f8
9. REMIND YOU
10. EGO
11. Because we are tiny in this world
12. RE:I AM -English ver.-
Mobile Suit Gundam UC Official website (English)
Mobile Suit Gundam UC Official website (Japanese)