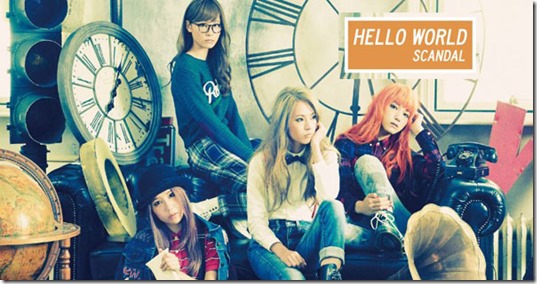 SCANDAL (スキャンダル) updated the release details for new album HELLO WORLD – jacket covers, full track list, and more revealed. Their 6th original album includes singles, new songs, and more with 13 total tracks. Album HELLO WORLD, produced by the band in collaboration with Kameda Seiji and Tetsuya Komuro, comes on four editions releasing December 3rd 2014 – all the details follow.
SCANDAL also updated the details for 20th single Image that's included on the album and releases November 19th 2014 (more details).
Album HELLO WORLD includes their singles released since 5th album STANDARD (October 2nd 2013),
Runners high – released as part of a combined single with T.M.Revolution's Count ZERO (February 12th 2014)
Departure – 18th single, April 23rd 2014
Yoake no Ryuseigun (夜明けの流星群) – 19th single, July 16th 2014
Image – upcoming 20th single, November 19th 2014
SCANDAL previewed several of the album's new songs during their sold out 10DAYS LIVE HOUSE events with five performances (September 14th – 19th 2014) at Akasaka BLITZ and five performances (September 23rd – 28th 2014) at Dojima River Forum Osaka. The events celebrated the band's 6th anniversary since their 2008 debut.
Album HELLO WORLD comes on four editions. Special Limited includes "Super-dangerous" T-shirt. Another special Limited analog edition comes on two 12" vinyl records (limited supply). Regular CD-only edition has a First Press version that includes member sticker (1 of 4) bonus.
The Limited editions and First Press versions include a lottery participation ticket for album launch event December 6th 2014 somewhere in Tokyo (details announced to winners).
SCANDAL – HELLO WORLD – release date December 3rd 2014
Limited [CD+T-shirt] (¥4630)


Limited [CD+DVD] (¥3333)


[CD]
1. Image (new single)
2. Your song
3. love in action
4. Departure (sgl 18th)
5. Graduation
6. Yoake no Ryuseigun (sgl 19th)
7. Onegai Navigation
8. Runners high (sgl special)
9. Hon wo yomu
10. Can Beer
11. Winter story
12. Oyasumi
13. Place of life (feat. Tetsuya Komuro)
[CD]
1. Image
2. Your song
3. love in action
4. Departure
5. Graduation
6. Yoake no Ryuseigun
7. Onegai Navigation
8. Runners high
9. Hon wo yomu
10. Can Beer 
11. Winter story
12. Oyasumi
13. Place of life (feat. Tetsuya Komuro)
[DVD]
1. SCANDAL Talking about album HELLO WORLD
Limited Analog [2xVinyl] (¥3800)


Regular [CD] (¥2913)


[Vinyl]
1. Image
2. Your song
3. love in action
4. Departure
5. Graduation (new)
6. Yoake no Ryuseigun
7. Onegai Navigation
8. Runners high
9. Hon wo yomu
10. Can Beer 
11. Winter story
12. Oyasumi
13. Place of life (feat. Tetsuya Komuro)
[CD]
1. Image
2. Your song
3. love in action
4. Departure
5. Graduation (new)
6. Yoake no Ryuseigun
7. Onegai Navigation
8. Runners high
9. Hon wo yomu
10. Can Beer 
11. Winter story
12. Oyasumi
13. Place of life (feat. Tetsuya Komuro)