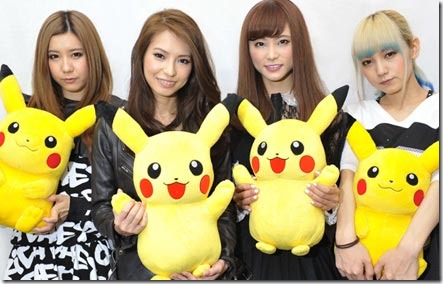 SCANDAL revealed the anime themed jacket cover for 19th single Yoake no Ryuseigun (夜明けの流星群) featured as the theme song for Pokemon The Movie XY "Diancie and the Cocoon of Destruction". The Limited "Pokemon" edition includes bonus poster and awards lottery for a themed Nintendo 3DS LL. Single Yoake no Ryuseigun comes on four editions hitting stores July 16th 2014 – updated details and movie trailer follow…
~ more jacket covers revealed ~
Band SCANDAL most recently released 18th single Departure on April 24rd 2014. The single includes coupling track Rainy featured as the theme song for the Japanese release of live-action movie Shadow Hunter.
The new Pokemon movie Pokemon The Movie XY "Diancie and the Cocoon of Destruction" story is set in the underground Diamond Domain, home to many Carbink, where the Mythical Pokémon Diancie serves as ruler. Ash and his friends help Diancie discover the power of the Heart Diamond and stop the awakened Legendary Pokémon Yveltal's rampage, and save the Diamond Domain.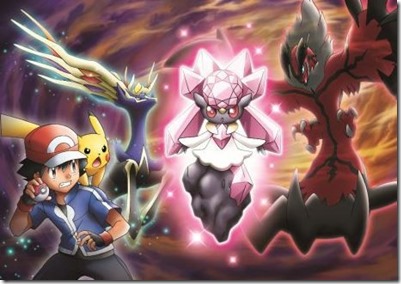 The movie premiers in theaters across Japan July 19th 2014.
Single Yoake no Ryuseigun comes on four editions (details subject to change),
– Limited "Pokemon" edition with illustrated anime themed cover and special coupling track. Includes special bonus b2-size poster (sample, not available at online stores unfortunately) and application card for awards lottery for 10 winners of a Pokemon XY movie themed Nintendo 3DS LL game unit.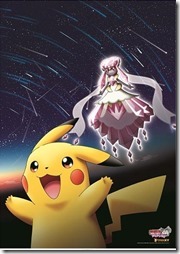 – Regular First Press edition includes deluxe photo booklet.
Additional purchase bonus most stores offer a b2-size notification poster (differs from the anime themed one above) on all editions (while supplies last). Selected stores offer SCANDAL member original coaster:  Tower Records (Haruna), HMV (Rina), Tsutaya (Mami), Shinseido (Tomomi) on each edition purchased.
More jacket covers, coupling tracks, and possible bonuses coming – follow Comtrya Sugoi for updates.The trailer for Pokemon The Movie XY below the release details.
SCANDAL – Yoake no Ryuseigun (夜明けの流星群) – release date July 16th 2014
Limited "Pokemon" [CD] (¥800)


Limited A [CD+DVD] (¥1435)


[CD]
1. Yoake no Ryuseigun
2. Pokemon Ieru Kana? 
3. Yoake no Ryuseigun (off vocal)
4. Pokemon Ieru Kana? (off vocal)
[CD]
1. Yoake no Ryuseigun
2. untitled
3. Yoake no Ryuseigun (off vocal)
[DVD]
1. Live digest Kyou ni Kite Gomen. in Kita held May 2nd – 10th 2014 (part 1)
Limited B [CD+DVD] (¥1435)


Regular [CD] (¥972)


[CD]
1. Yoake no Ryuseigun
2. untitled
3. Yoake no Ryuseigun (off vocal)
[DVD]
1. Live digest Kyou ni Kite Gomen. in Kita held May 2nd – 10th 2014 (part 2)
[CD]
1. Yoake no Ryuseigun
2. untitled
3. Yoake no Ryuseigun (off vocal)