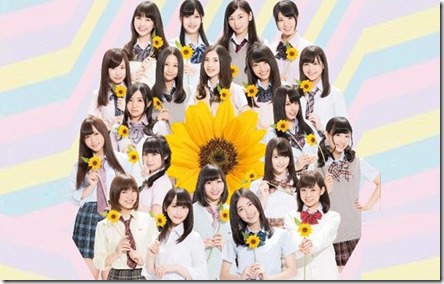 SKE48 is getting ready to release single Bukiyou Taiyou (不器用太陽) and Limited edtions now include a voting flyer for their just announced SKE48 Request Hour 2014. Their 15th single Bukiyou Taiyou comes on for 4 pairs of editions plus a Theater CD-only version all hitting stores July 30th 2014 – more details and PVs follow…
The announcement for the upcoming fan voted event came during the July 10th 2014 Team E theater performance. The SKE48 Request Hour 2014 is planned for November 1st & 2nd 2014 at Nagoya Century Hall. Votes are available to purchasers of the 15th single plus mobile and OnDemand members.
Also confirmed that with renewed security measures the handshake events previously delayed are re-scheduled. The Limited editions of SKE48's new single will also include the event participation ticket.
Their 15th single is first since the AKB48 group shuffle brought 7 members to SKE48 including Miyazawa Sae (from SNH48), Watanabe Miyuki (concurrent NMB48), Sato Sumire and Yamauchi Suzuran (transferred from AKB48), Tanaka Natsumi (concurrent HKT48), Yamada Nana (concurrent NMB48), and Tani Marika (transferred from HKT48).
SKE48's new single Bukiyou Taiyou comes on 4 pairs of editions (plus a Theater CD only edition available at SKE48 shops and mu-mo online). The Limited editions do include an event participation ticket plus the Request Hour 2014 voting card and a member photo (1 of 81).
The Request Hour 2014 PV and 15th single senbatsu PV videos after the release details.
SKE48 – Bukiyou Taiyou (不器用太陽) – release date July 30th 2014
Limited A [CD+DVD] (¥1524)


Regular A [CD+DVD] (¥1524)


[CD]
1. Bukiyou Taiyou
2. Houkago Race (Team S)
3. Coming soon (Boutopia senbatsu)
4. Tomodachi no ma Made (Section 10)
5. Bukiyou Taiyou (off vocal)
6. Houkago Race (off vocal)
7. Coming soon (off vocal))
8. Tomodachi no ma Made (off vocal)
[DVD]
1. Bukiyou Taiyou (music video)
2. Houkago Race (music video)
3. Team S documentary from 2013.04.13 to live Zepp Nagoya 2014.05.12
[CD]
1. Bukiyou Taiyou
2. Houkago Race (Team S)
3. Coming soon (Boutopia senbatsu)
4. Tomodachi no ma Made (Section 10)
5. Bukiyou Taiyou (off vocal)
6. Houkago Race (off vocal)
7. Coming soon (off vocal))
8. Tomodachi no ma Made (off vocal)
[DVD]
1. Bukiyou Taiyou (music video)
2. Houkago Race (music video)
3. Team S live Zepp Nagoya (2013.04.13) documentary
Limited B [CD+DVD] (¥1524)


Regular B [CD+DVD] (¥1524)


[CD]
1. Bukiyou Taiyou
2. Sayonara Kinou no Jibun (Team KII)
3. Coming soon (Boutopia senbatsu)
4. Tomodachi no ma Made (Section 10)
5. Bukiyou Taiyou (off vocal)
6. Houkago Race (off vocal)
7. Coming soon (off vocal))
8. Tomodachi no ma Made (off vocal)
[DVD]
1. Bukiyou Taiyou (music video)
2. Sayonara Kinou no Jibun (music video)
3. Team KII documentary from 2013.04.13 to live Zepp Namba 2014.05.13
[CD]
1. Bukiyou Taiyou
2. Sayonara Kinou no Jibun (Team KII)
3. Coming soon (Boutopia senbatsu)
4. Tomodachi no ma Made (Section 10)
5. Bukiyou Taiyou (off vocal)
6. Houkago Race (off vocal)
7. Coming soon (off vocal))
8. Tomodachi no ma Made (off vocal)
[DVD]
1. Bukiyou Taiyou (music video)
2. Sayonara Kinou no Jibun (music video)
3. Team KII documentary from 2013.04.13 to live Zepp Namba 2014.05.13
Limited C [CD+DVD] (¥1524)


Regular C [CD+DVD] (¥1524)


[CD]
1. Bukiyou Taiyou
2. Banana Kakumei (Team EI)
3. Coming soon (Boutopia senbatsu)
4. Tomodachi no ma Made (Section 10)
5. Bukiyou Taiyou (off vocal)
6. Banana Kakumei (off vocal)
7. Coming soon (off vocal))
8. Tomodachi no ma Made (off vocal)
[DVD]
1. Bukiyou Taiyou (music video)
2. Banana Kakumei (music video)
3. Team E documentary from 2013.04.13 to live Zepp Sapporo 2014.05.15
[CD]
1. Bukiyou Taiyou
2. Banana Kakumei (Team EI)
3. Coming soon (Boutopia senbatsu)
4. Tomodachi no ma Made (Section 10)
5. Bukiyou Taiyou (off vocal)
6. Banana Kakumei (off vocal)
7. Coming soon (off vocal))
8. Tomodachi no ma Made (off vocal)
[DVD]
1. Bukiyou Taiyou (music video)
2. Banana Kakumei (music video)
3. Team E documentary from 2013.04.13 to live Zepp Sapporo 2014.05.15
Limited D [CD+DVD] (¥1524)


Regular D [CD+DVD] (¥1524)


[CD]
1. Bukiyou Taiyou
2. untitled
3. Coming soon (Boutopia senbatsu)
4. Tomodachi no ma Made (Section 10)
5. Bukiyou Taiyou (off vocal)
6. untitled (off vocal)
7. Coming soon (off vocal))
8. Tomodachi no ma Made (off vocal)
[DVD]
1. Bukiyou Taiyou (music video)
2. untitled (music video)
3. SKE48 documentary 2014 concurrent and transferred members (AKB48 Team Shuffle)
[CD]
1. Bukiyou Taiyou
2. untitled
3. Coming soon (Boutopia senbatsu)
4. Tomodachi no ma Made (Section 10)
5. Bukiyou Taiyou (off vocal)
6. untitled (off vocal)
7. Coming soon (off vocal))
8. Tomodachi no ma Made (off vocal)
[DVD]
1. Bukiyou Taiyou (music video)
2. untitled (music video)
3. SKE48 documentary 2014 concurrent and transferred members
Theater [CD] (¥950)

 
[CD]
1. Bukiyou Taiyou
2. Coming soon (Boutopia senbatsu)
3. Tomodachi no ma Made (Section 10)
4. SKE48 15th Single Medley
5. Bukiyou Taiyou (off vocal)
6. Coming soon (off vocal))
7. Tomodachi no ma Made (off vocal)