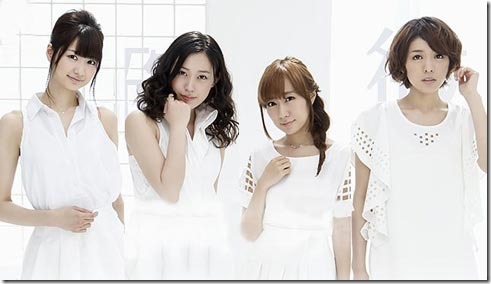 Sphere has unveiled the jacket covers and more for their new single Kasuka na Hisoka na Tashika na Mirai (微かな密かな確かなミライ). Their 15th single is featured as the ending theme for anime Nanana's Buried Treasure (龍ヶ嬢七々々の埋蔵金). Single Kasuka na Hisoka na Tashika na Mirai (A Hazy, Secret, Certain, Future) comes on three editions hitting stores May 14th 2014 – updated details and audio preview follow.
Recently Sphere celebrated their 5th anniversary with 14th single Eternal Tours released February 26th 2014. They have also just announced 4th album 4 colors for you scheduled for release on June 25th 2014 (more details).
Unit Sphere consists of popular voice actresses (seiyuu) Aki Toyosaki, Ayahi Takagaki, Haruka Tomatsu, and Minako Kotobuki. In addition to their anime voice work and activities with Sphere each member has solo projects. Member Aki Toyosaki released 10th single Delight on March 19th 2014, Minako Kotobuki just released her 7th single Believe x on April 16th 2014, and Ayahi Takagaki is releasing her 7th single Kaze ni Naru on May 28th 2014.
Anime Nanana's Buried Treasure (龍ヶ嬢七々々の埋蔵金, Ryūgajō Nanana no Maizōkin) is adapted from light novels by Otorino Kazuma and the story follows Yama Jugo who transfers to a high school on a special student zone artificial island. Jugo who is on is own must move into a low-rent apartment which is haunted by the ghost of Ryugajo Nanana. Yama and other members of the school's adventure club join in on a hunt for Nanana's treasure.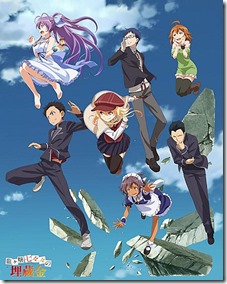 The anime is produced by A-1 Pictures and airs on the Fuji TV Noitamina time slot starting April 10th 2014. Outside of Japan provider Crunchyroll is simulcasting – check our Crunchyroll new episodes page or hit the link for Nanana's Buried Treasure for episodes and related stories.
The anime's opening theme will be provided by idol group Shiritsu Ebisu Chuugaku and their single Butterfly Effect.
Release event announced for Sphere's new single with participation ticket lottery serial number included with each edition of the single. The event is scheduled for may 31st 2014 somewhere in Tokyo. Entry deadline is May 18th 2014 and all applicants receive special Sphere wallpaper(s),
Single Kasuka na Hisoka na Tashika na Mirai (微かな密かな確かなミライ) comes on three editions. Application flyer for release event included. Selected stores offer additional purchase bonus photo while supplies last (check your store),
Audio preview below and trailer anime Nanana's Buried Treasure follows after the release details.
Sphere – Kasuka na Hisoka na Tashika na Mirai – release date May 14th 2014
Limited [CD+DVD] (¥1800)

Limited Pressing [CD] (¥1200)

[CD]
1. Kasuka na Hisoka na Tashika na Mirai
(preview)

2. undecided
3. Kasuka na Hisoka na Tashika na Mirai (off vocal)
4. undecided (off vocal)
[DVD]
1. Kasuka na Hisoka na Tashika na Mirai

[CD]
1. Kasuka na Hisoka na Tashika na Mirai
2. undecided
3. Kasuka na Hisoka na Tashika na Mirai (off vocal)
4. undecided (off vocal)
Regular [CD] (¥1200)

[CD]
1. Kasuka na Hisoka na Tashika na Mirai
2. undecided
3. Kasuka na Hisoka na Tashika na Mirai (off vocal)
4. undecided (off vocal)
Sphere Official website (Planet Sphere)
Haruka Tomatsu Official website
Ayahi Takagaki Official website
Minako Kotobuki Official website