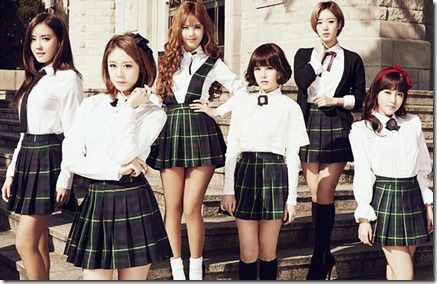 T-ARA added more details for new Japanese album Gossip Girls – jacket covers revealed. The album contains five new songs, two singles, and more for 12 total tracks. Album Gossip Girls comes on three special editions dropping May 14th 2014 – updated release details follow…
~ PVs revealed ~
Korean group T-ARA released 2nd album TREASURE BOX (2013.08.07) less than a year ago. Since then they released 8th Japanese single NUMBER NINE / Kioku ~ Kimi ga Kureta Michishirube ~ on November 20th 2013 (more details). Most recently T-ARA released 9th Japanese single – Lead the way / LA'booN on March 5th 2014. Song Lead the way is featured as theme for Fuji TV show SHELiCo no Yoru Katsu during March (more details).
T-ARA's 3rd album Gossip Girls comes on three editions that share the same CD-track list. The Diamond edition includes deluxe photobook 32-page and all three editions include a trading card (1 of 7). Additional purchase bonus on all editions adds photo (1 of 6) while supplies last (varies by store).
Preview music videos for singles Lead the way and NUMBER NINE follow below.
T-ARA – Gossip Girls – release date May 14th 2014
Diamond [CD+DVD+Photobook] (¥7000)

Sapphire [CD+DVD] (¥4300)

[CD]
1. Just Now (new)
2. Lucky Wannabeee! (new)
3. NUMBER NINE
4. Lead the way
5. Keep On Walking (new)
6. Knockin'on my heart (new)
7. MUSICA MUSICA (new)
8. Watashi, Doushi yo (Japanese ver.)
9. LA'booN
10. A – HA
11. Kioku ~ Kimi ga Kureta Michishirube
12. T.T.L. ~ Time to Love (Japanese ver.) DJ Hanmin Remix
[DVD]
1. Special Gossip Girls movie (50-min)
[CD]
1. Just Now
2. Lucky Wannabeee!
3. NUMBER NINE
4. Lead the way
5. Keep On Walking
6. Knockin'on my heart
7. MUSICA MUSICA
8. Watashi, Doushi yo (Japanese ver.)
9. LA'booN
10. A – HA
11. Kioku ~ Kimi ga Kureta Michishirube
12. T.T.L. ~ Time to Love (Japanese ver.) DJ Hanmin Remix
[DVD]
1. NUMBER NINE (music video)
2. Kioku ~ Kimi ga Kureta Michishirube (directors cut)
3. Lead the way (music video)
4. Lead the way (lip ver.)
5. Album recording footage
6. Jacket cover photo shoot footage
Pearl [CD] (¥3000)

 
[CD]
1. Just Now
2. Lucky Wannabeee!
3. NUMBER NINE
4. Lead the way
5. Keep On Walking
6. Knockin'on my heart
7. MUSICA MUSICA
8. Watashi, Doushi yo
9. LA'booN
10. A – HA
11. Kioku ~ Kimi ga Kureta Michishirube
12. T.T.L. ~ Time to Love (Japanese ver.) DJ Hanmin Remix
 
T-ARA Official website (Japan)