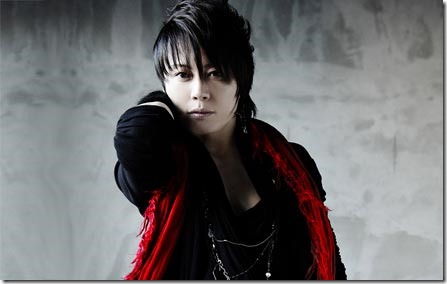 T.M.Revolution officially announced new single Tsuki Yabureru – Time to Smash! (突キ破レル-Time to SMASH!) with tie-up as the opening theme for anime Disk Wars: The Avengers. The single also includes Thread of fate featured as the anime's ending theme. Single Tsuki Yabureru – Time to Smash! come on four editions scheduled for release on August 6th 2014 – read on for more details, audio previews, and full episode #1…
~ jacket covers and more revealed ~
T.M.Revolution (T.M.R.) is the alter-ego of the talented singer and producer Nishikawa Takanori. In addition to providing the OP and ED for anime Disk Wars: The Avengers he voices villain Silver Samurai who has taken Japan into a period of darkness. The episodes with Silver Samurai aired May 28th and June 4th 2014. The character also appeared in the 2013 film The Wolverine.
Most recently T.M.R and band SCANDAL released a special split single Count ZERO / Runners high on February 12th 2014. Both songs have tie-ups with new PS3 game Sengoku BASARA4 as the opening and ending theme songs respectively.
Anime Disk Wars: The Avengers based on the Marvel comics characters is produced by Toei Animation and distributed by Walt Disney Japan. Aimed at a younger audience (boys 6-12) introduces soul Disks that have captured the villains as well as the Avengers. Four boys and one girl have obtained the disks and the power to restore each Avenger – Iron Man, Thor, Captain America, Hulk, and Wasp.
The anime began airing April 2nd 2014 in Japan during evening primetime Wednesday 6:30pm on TV Tokyo and 9:00am Sundays on Disney XD.
Single Tsuki Yabureru – Time to Smash! comes on four editions that share the same CD track list (details subject to change),
– Limited A comes in deluxe box with illustrated cover, 5-piece Bachitamashi soul disk set including Silver Samurai (TMR ver.).
– Limited B with illustrated cover, Silver Samurai Bachitamashi soul disk (TMR ver.).
– Limited Pressing with DVD. Other possible bonuses may be announced.
– Regular First Press includes TMR trading card.
Jacket covers and more coming – follow Comtrya Sugoi for updates. Episode #1 of Disk Wars: The Avengers (posted at Disney Japan Youtube channel) follows below the release details.
T.M.Revolution – Tsuki Yabureru – Time to Smash! – release date August 6th 2014
Limited A [CD] (¥2400)


Limited B [CD] (¥1500)


[CD]
1. Tsuki Yabureru- Time to SMASH!
(preview)

2. Thread of fate
(preview)

3. Tsuki Yabureru- Time to SMASH! (off vocal)
4. Thread of fate (off vocal)
5. Tsuki Yabureru- Time to SMASH! (TV-size)
6. Thread of fate (TV-size)

[CD]
1. Tsuki Yabureru- Time to SMASH!
2. Thread of fate
3. Tsuki Yabureru- Time to SMASH! (off vocal)
4. Thread of fate (off vocal)
5. Tsuki Yabureru- Time to SMASH! (TV-size)
6. Thread of fate (TV-size)
Limited Pressing [CD+DVD] (¥1800)


Regular [CD] (¥1200)


[CD]
1. Tsuki Yabureru- Time to SMASH!
2. Thread of fate
3. Tsuki Yabureru- Time to SMASH! (off vocal)
4. Thread of fate (off vocal)
5. Tsuki Yabureru- Time to SMASH! (TV-size)
6. Thread of fate (TV-size)
[DVD]
1. Tsuki Yabureru- Time to SMASH!  (music video)
2. Disk Wars: The Avengers textless OP
3. Disk Wars: The Avengers textless ED1
4. Disk Wars: The Avengers textless ED2
[CD]
1. Tsuki Yabureru- Time to SMASH!
2. Thread of fate
3. Tsuki Yabureru- Time to SMASH! (off vocal)
4. Thread of fate (off vocal)
5. Tsuki Yabureru- Time to SMASH! (TV-size)
6. Thread of fate (TV-size)
T.M.Revolution Official website