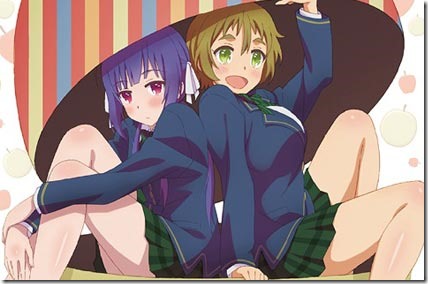 Singing in their character voices Tamura Yukari and Kana Hanazawa are providing the ending theme MoGiTaTe – Fruit Girls for anime No-Rin. Tamura Yukari voices character Ringo Kinoshita/Yuka Kusakabe and Kana Hanazawa voices Minori Nakazawa in the anime. The ending theme along with insert song Cordless☆Tere☆PHONE performed by Yuka Kusakabe (Tamura Yukari) come on maxi-single hitting stores January 22nd 2014. Full details and anime preview featuring Cordless☆Tere☆PHONE follows.
Tamura Yukari (田村ゆか り) is also providing the anime's opening theme Himitsu no Tobira Kara ai ni Kite with her 24th single (more details). Kana Hanazawa, busy on multiple anime projects, is providing the opening theme Meiwaku Spectacle for another upcoming anime Tonari no Seki-kun. Kana Hanazawa voices main character Yokoi Rumi in the anime's 10-minute episodes (more details).
Anime No-Rin is adapted from light novel series written by Shiratori Shirow and illustrated by Kippu. The story follows Kosaku Hatta, a student at Tamo No-Rin (Tamo Agricultural High School), who recently was devastated by the news his favorite and extremely popular idol Yuka 'Yukatan' Kusakabe announced her retirement from entertainment. Soon after a new transfer student comes to his class under the name Ringo Konoshita but Kosaku and classmates realize its Yukatan under her real name.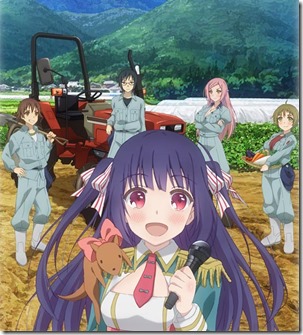 Kosaku and his classmates naturally want to learn more about their dream girl and find out why she's at No-Rin. The anime also features Shintaro Asanuma as Kosaku Hatta. Anime No-Rin begins airing in Japan on Tokyo MX January 10th 2014. Outside of Japan no announcements yet.
The maxi-single comes on one CD-only edition with 7 tracks and includes two jacket covers. Two preview videos for anime No-Rin, with one featuring insert song Cordless☆Tere☆PHONE, follow after the release details.
Tamura Yukari (Ringo Kinoshita/Yuka Kusakabe) x Kana Hanazawa (Minori Nakazawa) – Cordless☆Tere☆PHONE / MoGiTaTe – Fruit Girls  – release date January 22nd 2014
Regular [CD] (¥1575)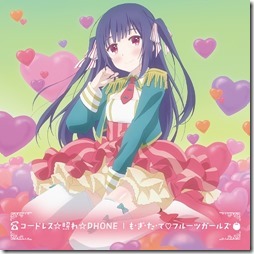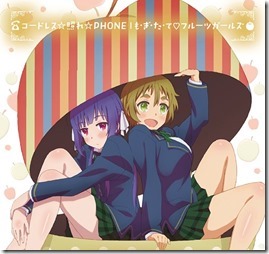 [CD]
1. Cordless☆Tere☆PHONE
2. MoGiTaTe – Fruit Girls
3. Cordless☆Tere☆PHONE ~ Yukatan Concert Version ~
4. MoGiTaTe – Fruit Girls (Ringo ver.)
5. MoGiTaTe – Fruit Girls (Minori ver.)
6. Cordless☆Tere☆PHONE (off vocal)
7. MoGiTaTe – Fruit Girls (off vocal)
Tamura Yukari Official website
Kana Hanazawa official website