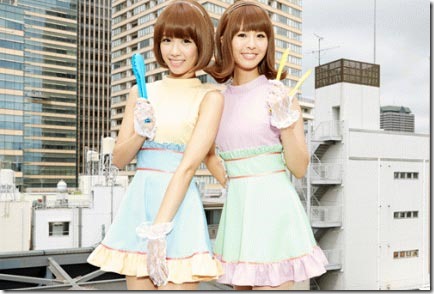 Vanilla Beans has announced new single Watashi…Fukoguse (ワタシ・・・不幸グセ). Their 10th single is written by Maeda Takahiro with music by Nakajima Yasuo both previously collaborated with Vanilla Beans. Single Watashi…Fukiguse comes on three editions set for release on April 23rd 2014 – more details follow…
~ updated details ~
Most recently the duo of Rena and Lisa who comprise Vanilla Beans released their 9th single Please Me Darling on October 16th 2013 (details). They released their 8th single Muscat Slope Love on May 8th 2013 with the title track is produced by Hideki Kaji known for neo-acoustic Swedish pop inspired music (details).
Single Watashi…Fukuguse comes on three editions (details subject to change),
– Limited A with bonus CD-tracks.
– Limited B with DVD containing 30minutes of footage of Vanilla Beans taking a climb to the summit of Mount Fuji challenge.
– Regular CD-only.
Full track list, jacket covers, and more will be updated when announced. Enjoy the music video for their 9th single Please me Darling after the release details.
Vanilla Beans – Watashi…Fukoguse (ワタシ…不幸グセ) – release date April 23rd 2014
Limited A [CD+DVD] (¥1200)

Limited B [CD+DVD] (¥1500)

[CD]
1. Watashi… Fukoguse
2. Koi no Sniper 007
3. undecided
4. undecided 
5. undecided (off vocal)
6. undecided (off vocal)
[CD]
1. Watashi… Fukoguse
2. Koi no Sniper 007
[DVD]
1. We Aim for the Summit Mount Fuji Climbing Challenge 2014 "Vanilla Beans"!
Regular [CD] (¥1000)

 
[CD]
1. Watashi… Fukoguse
2. Koi no Sniper 007