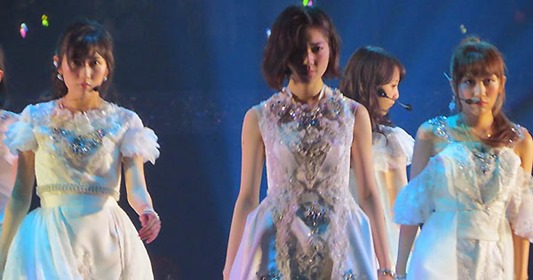 AKB48 revealed Shimazaki Haruka as center for their 40th single Bokutachi wa Tatakawanai (僕たちは戦わない). The senbatsu includes 32 members for the key single with the member voting ticket for their 2015 Senbatsu Sousenkyo (General Election). Single Bokutachi wa Tatakawanai comes on 4 pairs of editions plus the theater version all set for release on May 20th 2015. Read on for more details and pre-order links.
Some shocking news hit the AKB48 group when popular and newer senbatsu member Kawaei Rina (16th at the 2014 Senbatsu Sousenkyo) suddenly announced her pending graduation from AKB48. She addressed the audience during their March 26th 2015 Members Surprise Spring Shuffle at Saitama Super Arena. Kawaei was involved in an incident approximately one week before the 2014 Senbatsu Sousenkyo when she and member Iriyama Anna were attacked and injured by a knife wielding mentally unstable fan during a handshake event. She tearfully explained,
"As someone who is in AKB48, Handshake Event is an event that should be of the utmost importance. But I couldn't attend the events since the incident and I don't think that I will ever be able to. I have been thinking about what I should do and always worrying about it. In spite of everything I really want to do things that I personally WANT to do and push myself as hard as I can while doing so."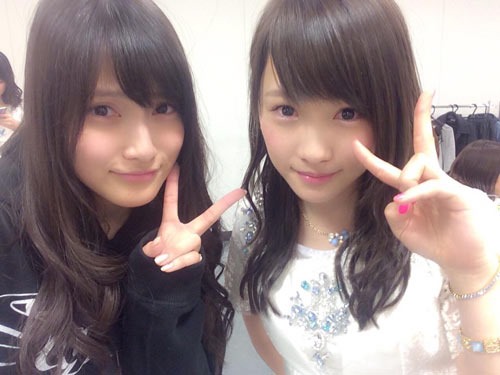 Irriyama Anna and Kawaei Rina tweeted after the March 26th 2015 event (Source: Twitter)
Single Bokutachi wa Tatakawanai (We Can't Fight) features Shimazaki Haruka as center – her first as a management selection. She previously won the 3rd Janken Taikai and awarded center for 29th single Eien Pressure. The full senbatsu for the 40th single includes several first time selections (*) and a spot was declined by member Iriyama Anna,
AKB48: Shimazaki Haruka (center), Owada Nana, Kawaei Rina, Kojima Haruna, Takahashi Minami, Yokoyama Yui, Tano Yuka, Minegishi Minami, Mukaichi Mion, Muto Tomu, Oshima Ryoka, Kashiwagi Yuki, Kato Rena, Kizaki Yuria, Watanabe Mayu, *Okada Nana, Kawamoto Saya, Kojima Mako, Takahashi Juri, Nakano Ikumi (Team 8), *Sakaguchi Nagisa (Team 8)
SKE48: *Kitagawa Ryoha, Matsui Jurina, Suda Akari, Matsui Rena, Miyazawa Sae 
NMB48: Yamamoto Sayaka, Watanabe Miyuki 
HKT48: Kodama Haruka, Sashihara Rino, Miyawaki Sakura
Nogizaka46: Ikoma Rina
Limited editions include handshake event ticket. All editions include 2015 41st single Senbatsu Sousenkyo voting ticket and member photo (varies by edition and store).
Jacket covers, full track list, and more details coming!
AKB48 – Bokutachi wa Tatakawanai (僕たちは戦わない) – release date May 20th 2015
Limited type-I [CD+DVD] (¥1524)


Regular type-I [CD+DVD] (¥1524)


[CD]
1. Bokutachi wa Tatakawanai
2. common coupling
3. undecided (type-I)
4. Bokutachi wa Tatakawanai (off vocal)
5. common coupling (off vocal)
6. undecided (off vocal)
[DVD]
1. Bokutachi wa Tatakawanai (music video)
2. common coupling (music video)
2. undecided type-I (music video)
[CD]
1. Bokutachi wa Tatakawanai
2. common coupling
3. undecided (type-I)
4. Bokutachi wa Tatakawanai (off vocal)
5. common coupling (off vocal)
6. undecided (off vocal)
[DVD]
1. Bokutachi wa Tatakawanai (music video)
2. common coupling (music video)
2. undecided type-I (music video)
Limited type-II [CD+DVD] (¥1524)


Regular type-II [CD+DVD] (¥1524)


[CD]
1. Bokutachi wa Tatakawanai
2. common coupling
3. undecided (type-II)
4. Bokutachi wa Tatakawanai (off vocal)
5. common coupling (off vocal)
6. undecided (off vocal)
[DVD]
1. Bokutachi wa Tatakawanai (music video)
2. common coupling (music video)
2. undecided type-II (music video)
[CD]
1. Bokutachi wa Tatakawanai
2. common coupling
3. undecided (type-II)
4. Bokutachi wa Tatakawanai (off vocal)
5. common coupling (off vocal)
6. undecided (off vocal)
[DVD]
1. Bokutachi wa Tatakawanai (music video)
2. common coupling (music video)
2. undecided type-II (music video)
Limited type-III [CD+DVD] (¥1524)


Regular type-III [CD+DVD] (¥1524)


[CD]
1. Bokutachi wa Tatakawanai
2. common coupling
3. undecided (type-III)
4. Bokutachi wa Tatakawanai (off vocal)
5. common coupling (off vocal)
6. undecided (off vocal)
[DVD]
1. Bokutachi wa Tatakawanai (music video)
2. common coupling (music video)
2. undecided type-III (music video)
[CD]
1. Bokutachi wa Tatakawanai
2. common coupling
3. undecided (type-III)
4. Bokutachi wa Tatakawanai (off vocal)
5. common coupling (off vocal)
6. undecided (off vocal)
[DVD]
1. Bokutachi wa Tatakawanai (music video)
2. common coupling (music video)
2. undecided type-III (music video)
Limited type-IV [CD+DVD] (¥1524)


Regular type-IV [CD+DVD] (¥1524)


[CD]
1. Bokutachi wa Tatakawanai
2. common coupling
3. undecided (type-IV)
4. Bokutachi wa Tatakawanai (off vocal)
5. common coupling (off vocal)
6. undecided (off vocal)
[DVD]
1. Bokutachi wa Tatakawanai (music video)
2. common coupling (music video)
2. undecided type-IV (music video)
[CD]
1. Bokutachi wa Tatakawanai
2. common coupling
3. undecided (type-IV)
4. Bokutachi wa Tatakawanai (off vocal)
5. common coupling (off vocal)
6. undecided (off vocal)
[DVD]
1. Bokutachi wa Tatakawanai (music video)
2. common coupling (music video)
2. undecided type-IV (music video)