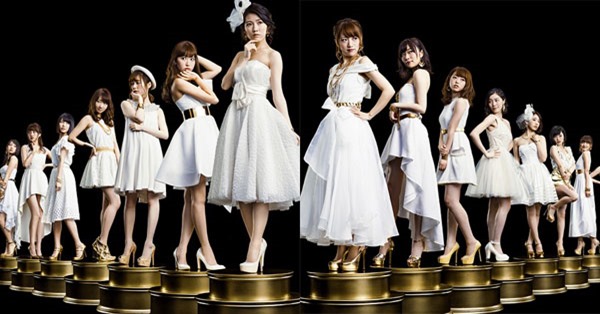 AKB48 is nearing the release of their 10th anniversary greatest hits album 0 to 1 no Aida (0と1の間). All album songs are re-mastered with key graduated members returning to participate. The album comes on four different types with different sets of new songs included on each. Album 0 to 1 no Aida hits stores November 18th 2015.
Returning to participate on the album tracks are former members Maeda Atsuko, Itano Tomomi, Kasai Tomomi, Erena Ono, Oku Manami, Sato Natsuki, Matsui Sakiko, Shinoda Mariko, Kawaei Rina, Matsui Rena, Akimoto Sayaka, Kuramochi Asuka, and Oshima Yuko.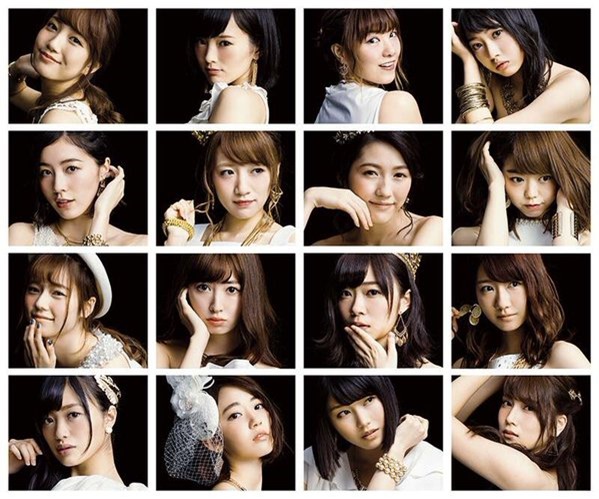 The albums different types: Limited A on 2xCD includes their 28 #1 singles that start with River (14th, 2009) plus three new songs. Limited B also on 2xCD includes their 23 million+ selling singles that start with Beginner (18th, 2010) plus six new songs. The Complete edition on 3xCD+DVD includes their two indie singles and all 41 major label singles plus three new songs for 46 tracks. The theater version includes the one million+ singles 2xCD with two new songs.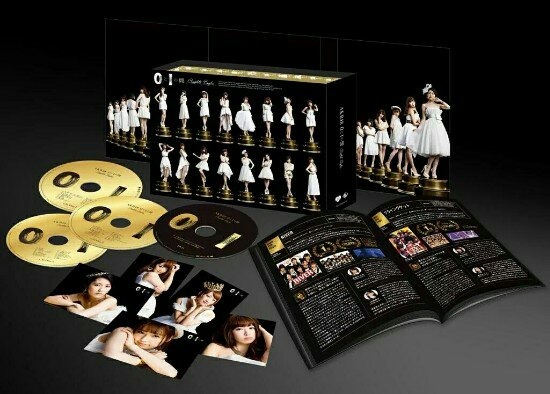 Singles collection albums 0 to 1 no Aida (0と1の間) three main editions are also offered as bundled set at most stores. Types A/B include two member photos and event ticket. Complete edition includes 100-page photo and song commentary booklet, five member photos, and event ticket. Theater version available via special King Records site.
Most stores offer additional bonus image differs by store (CDjapan pencil board),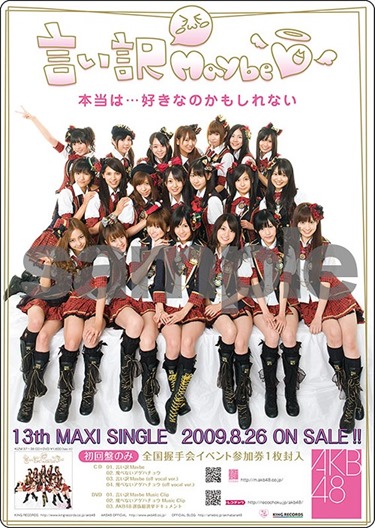 AKB48 – 0 to 1 no Aida – release date November 18th 2015
Limited A [2CD] (¥3500)


Limited B [2CD] (¥3500)



[CD1]
1. River
2. Sakura no Shiori
3. Ponytail to Shushu
4. Heavy Rotation
5. Beginner
6. Chance no Junban
7. Sakura no Ki ni Naro
8. Everyday, Katyusha
9. Flying Get   
10. Kaze wa Fuiteiru 
11. Ue Kara Mariko 
12. GIVE ME FIVE! 
13. Manatsu no Sounds Good! 
14. Gingham Check 
15. UZA 
16. Eien Pressure 

[CD2]
1. So Long !      
2. Sayonara Crawl 
3. Koisuru Fortune Cookie 
4. Heart Ereki  
5. Kimi no Hohoemi wo Yume ni Miru   
6. Mae Shika Mukanee 
7. Labrador Retriever 
8. Kokoro no Placard 
9. Kiboteki Refrain   
10. Green Flash 
11. Bokutachi wa Tatakawanai 
12. Halloween Night 
13. Yasashiku Aritai (Kashiwagi Yuki, Sashihara Rino)
14. Toy Poodle to Kimi no Monogatari (Shimazaki Haruka, Matsui Jurina)
15. Anogoro, Sukidatta Hito (Kojima Haruna, Yokoyama Yui)

[CD1]
1. Beginner
2. Sakura no Ki ni Narou
3. Everyday, Katyusha
4. Flying Get
5. Kaze wa Fuiteiru
6. Ue Kara Mariko
7. GIVE ME FIVE!
8. Manatsu no Sounds Good!
9. Gingham Check
10. UZA
11. Eien Pressure
12. So Long
13. Sayonara Crawl
14. Koisuru Fortune Cookie
15. Heart Ereki

[CD2]
1. Kimi no Hohoemi wo Yume ni Miru
2. Mae Shika Mukanee
3. Labrador Retriever
4. Kokoro no Placard
5. Kibouteki Refrain
6. Green Flash
7. Bokutachi wa Tatakawanai
8. Halloween Night
9. Clap Team A
10. Ai no Shisha Team K
11. Music Junkie Team B
12. Nakigoto Time Team 4
13. Issho no Ma ni Nannin to Deaerudarou Team 8
14. LOVE ASH (Takahashi Minami, Yamamoto Sayaka)

Complete [3CD+DVD] (¥5800)


[CD1]
1. Sakura no Hanabiratachi (2015 ver.)
2. Skirt, Hirari (2015 ver.)
3. Aitakatta
4. Seifuku ga Jama o Suru
5. Keibetsu Shiteita Aijo
6. Bingo!
7. Boku no Taiyo
8. Yuhi o Miteiru ka?
9. Romance, Irane
10. Sakura no Hanabiratachi 2008
11. Baby! Baby! Baby!
12. Ogoe Diamond
13. 10nen Sakura
14. Namida Surprise
15. Iiwake Maybe
 
[CD2]
1. River
2. Sakura no Shiori
3. Ponytail to Shushu
4. Heavy Rotation
5. Beginner
6. Chance no Junban
7. Sakura no Ki ni Naro
8. Everyday, Katyusha
9. Flying Get
10. Kaze wa Fuiteiru
11. Ue Kara Mariko
12. GIVE ME FIVE!
13. Manatsu no Sounds Good!
14. Gingham Check
15. UZA
16. Eien Pressure

[CD3]
1. So Long
2. Sayonara Crawl
3. Koisuru Fortune Cookie
4. Heart Ereki
5. Kimi no Hohoemi wo Yume ni Miru…
6. Mae Shika Mukanee
7. Labrador Retriever
8. Kokoro no Placard
9. Kibouteki Refrain
10. Green Flash
11. Bokutachi wa Tatakawanai
12. Halloween Night
13. Christmas Eve ni Nakanai yo ni
14. Hajimari no Yuki
15. Rozario

[DVD]
1. AKB48 members virtual handshake
2. DECADE ~ AKB48 10th no Kiseki