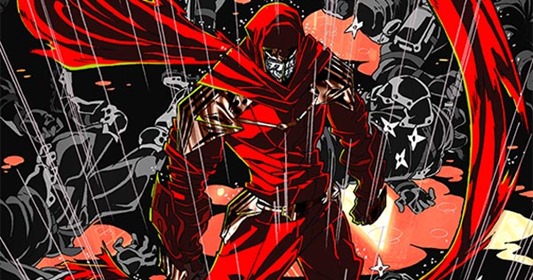 BOOM BOOM SATELLITES provides the opening theme song BACK IN BLACK for upcoming anime Ninja Slayer. The song is part of their 9th original album SHINE LIKE A BILLION SUNS. The album comes on two editions that released February 4th 2015. More album and anime details plus new anime trailer follow.
Group BOOM BOOM SATELLITES celebrated their 15th anniversary in 2012 and released 8th album EMBRACE January 9th 2013. In 2014 the group was again force into a hiatus when member Kawashima Yuchiyuki (G, VO)(right) had another reoccurrence of brain tumors. Two weeks post-operative he began writing for the new album SHINE LIKE A BILLON SUNS.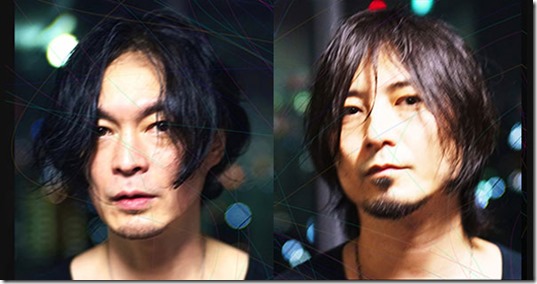 The Ninja Slayer project started with a fictitious backstory as originally written by American authors Bradley Bond and Philip Ninj@ Morzez. Then uncovered and translated by actual Japanese authors Honda Yu and Sugi Leika. The story is set in a near-future cyberpunk Neo-Saitama where the souls of good and evil ninja are resurrected. When Fujikido Kenji's family is killed in a ninja battle he vows revenge. During training he becomes possessed by a righteous ninja soul, becoming the Ninja Slayer.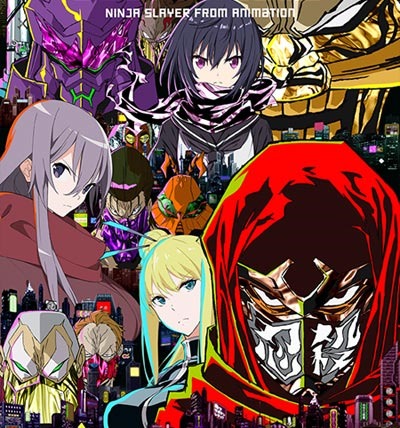 Studio Trigger (Kill la Kill) is in charge of production for the anime adaption that begins via online streaming April 16th 2015. Nico Nico Douga and other providers stream for Japan region. The official world-wide streaming sites aren't yet announced.
Album SHINE LIKE A BILLION SUNS comes on two editions. Limited includes bonus mix-track CD. Both edtions include extra jacket cover designed by artist redjuice,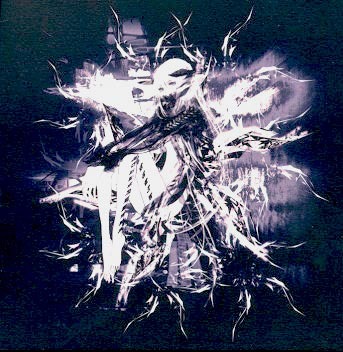 New anime trailer featuring theme song BACK IN BLACK after the release details.
BOOM BOOM SATELLITES – SHINE LIKE A BILLION SUNS – release date February 4th 2014
Limited [CD+CD] (¥3500)


Regular [CD] (¥3000)


[CD1]
1. SHINE
2. ONLY BLOOD
3. COMPLICATED
4. A HUNDRED SUNS
5. VANISHING
6. BACK IN BLACK
7. THE MOTH (ATTRACTED TO THE FLAME)
8. BLIND BIRD
9. OVERCOME
10. STAIN
11. EMERGENCE 
[CD2]
1. Sampling Date Disc A HUNDRED SUNS -STEM-
[CD]
1. SHINE
2. ONLY BLOOD
3. COMPLICATED
4. A HUNDRED SUNS
5. VANISHING
6. BACK IN BLACK
7. THE MOTH (ATTRACTED TO THE FLAME)
8. BLIND BIRD
9. OVERCOME
10. STAIN
11. EMERGENCE