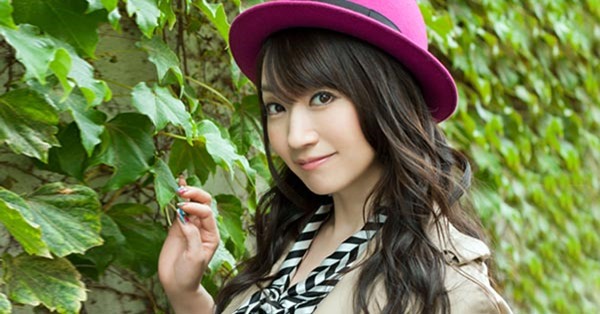 Nana Mizuki (水樹奈々) revealed jacket covers, full track list, and more details for her new album SMASHING ANTHEMS. Her 11th original album includes four singles, unreleased songs, plus new songs for 15 total tracks. Album SMASHING ANTHEMS comes on three editions scheduled for release on November 11th 2015.
Popular voice actor and singer / songwriter Nana Mizuki (35) released her 10th original album SUPERNAL LIBERTY over a year ago on April 16th 2014.
Her new album includes her most recent single and other songs with tie-ups,
– Exterminate (33rd sngl, 2015.07.22) OP Symphogear GX
– Glorious Break (unreleased) ED1 Symphogear GX
– Angel Blossom (32nd sngl, 2015.04.22) OP Magical Girl Lyrical Nanoha ViVid
– Eden (31st sngl, 2015.01.14) theme animelo mix TV-CM
– Kindan no Resistance (30th sngl, 2014.10.15) OP CROSS ANGE: Tenshi to Ryu no Rondo
The new album comes on three editions with the Limited editions having special "Ivy" box packaging and including a deluxe photo book. First press versions include application flyer for special "chair" performance January 24th 2015 Yoyogi National Stadium events.
Most stores offer purchase bonus – availability and type varies by store (a3-size poster CDJapan sample),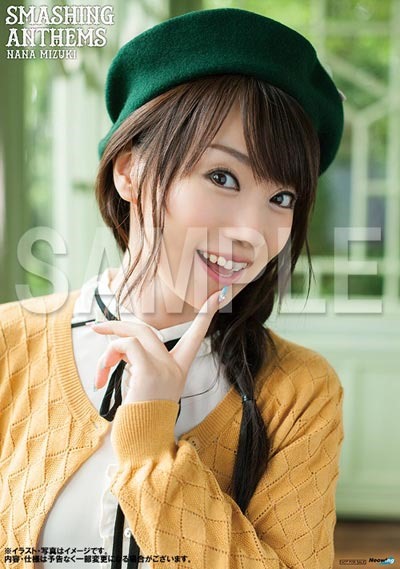 Nana Mizuki – SMASHING ANTHEMS – release date November 11th 2015
Limited [CD+BD] (¥3600)


Limited [CD+DVD] (¥3600)


[CD]
1. Glorious Break
2. Never Let Go
3. SUPER☆MAN
4.  Angel Blossom
lyrics: Nana Mizuki
 
5. BRACELET
6. Lazy Syndrome
7. Koiuta.
8. Kindan no Resistance ~Extended Mix~
lyrics: Nana Mizuki

9. The NEW STAR
10. Clutch!!
11. Netsuojo no Maria
lyrics: Nana Mizuki

12. Ego Ideal
lyrics, composer: Nana Mizuki

13. Eden
14. Ambivalence       
15. Exterminate                 
lyrics: Nana Mizuki

[BD]        
Previously unreleased live event footage
1. LIVE ATTRACTION 2002 Tokyo International Forum Hall
-  Anone ~ Ma Mi Mu Me ☆ Mo Ga Cho
– LOVE & HISTORY
2. LIVE SENSATION 2003 Shibuya Hall
– Thermidor
– PROTECTION
3. LIVE SPARK 2004 -summer- Zepp Tokyo
– NANA Iro no yoni
– BE READY!
4. LIVE ROCKET 2005~summer~ Pacifico Yokohama
– Soyokaze ni Fuka Rete
– Suki!
5. Jacket cover photo shoot
6. audio commentary

[CD]
1. Glorious Break
2. Never Let Go
3. SUPER☆MAN
4.  Angel Blossom
5. BRACELET
6. Lazy Syndrome
7. Koiuta.
8. Kindan no Resistance ~Extended Mix~
9. The NEW STAR
10. Clutch!!
11. Netsuojo no Maria
12. Ego Ideal
13. Eden
14. Ambivalence        
15. Exterminate         

[BD]        
Previously unreleased live event footage
1. LIVE ATTRACTION 2002 Tokyo International Forum Hall
-  Anone ~ Ma Mi Mu Me ☆ Mo Ga Cho
– LOVE & HISTORY
2. LIVE SENSATION 2003 Shibuya Hall
– Thermidor
– PROTECTION
3. LIVE SPARK 2004 -summer- Zepp Tokyo
– NANA Iro no yoni
– BE READY!
4. LIVE ROCKET 2005~summer~ Pacifico Yokohama
– Soyokaze ni Fuka Rete
– Suki!
5. Jacket cover photo shoot
6. audio commentary

Regular [CD] (¥2800)


[CD]
1. Glorious Break
2. Never Let Go
3. SUPER☆MAN
4.  Angel Blossom
5. BRACELET
6. Lazy Syndrome
7. Koiuta.
8. Kindan no Resistance ~Extended Mix~
9. The NEW STAR
10. Clutch!!
11. Netsuojo no Maria
12. Ego Ideal
13. Eden
14. Ambivalence        
15. Exterminate   
Nana Mizuki official site "Nana Party"