February 24, 2015
-
toyNN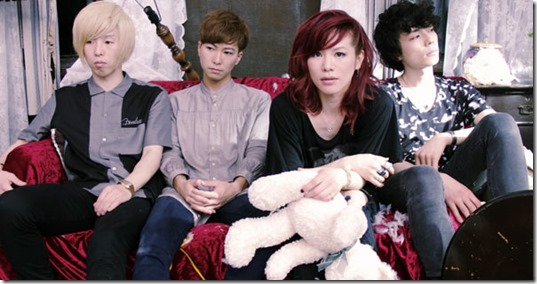 nano.RIPE unveiled more details new album Nanairo Megane no Himitsu (七色眼鏡のヒミツ) – jacket covers and full track list revealed. Their 4th original album comes on two editions hitting stores April 8th 2015. Read on for more details.
Band nano.RIPE most recently released single Toumei na Sekai (透明な世界) on July 23rd 2014. Their 13th single has tie-up as the ending theme for upcoming anime GLASSLIP. Just over a year ago they released 3rd album Namida no Ochiru Sokudo (涙の落ちる速度) on January 8th 2014.
nano.RIPE 5th Anniversary Program Vol. 2 TOUR 2015 has 48+ performances scheduled from April 8th 2015 through October 10th 2015. More details at their website (link below).
Album Nanairo Megane no Himitsu (Secret of Seven Colored Glasses) comes on two editions. Limited includes music video for new song Kotae awase plus 23 songs captured live at their 5th Anniversary Live Program Vol 1. held January 3rd 2015 at Zepp DiverCity.
Special purchase bonus acoustic song CD at target stores: Tower Records (Tachyon -Acoustic-) and animate (Tsumabiku Hitori -Acoustic-) – while supplies last.
nano.RIPE – Nanairo Megane no Himitsu (七色眼鏡のヒミツ) – release date April 8th 2015
Limited [CD+DVD] (¥3900)


Regular [CD] (¥3000)


[CD]
1. Kotae awase
2. Toumei na Sekai
3. Sun Down
4. Ripe
5. 4-Funkan
6. Kamisama
7. Apollo
8. Parallel World
9. Zettaichi
10. Uso to Tsuki
11. Rarumi
12. Hotaru (Spitz cover)
13. Soratobu Kutsu
14. Yushoku Tomei
[DVD]
1. Kotae awase (music video)
2. 5th Anniversary live program vol. 1 (2015.01.03 Zepp DiverCity) 23 songs
[CD]
1. Kotae awase
2. Toumei na Sekai
3. Sun Down
4. Ripe
5. 4-Funkan
6. Kamisama
7. Apollo
8. Parallel World
9. Zettaichi
10. Uso to Tsuki
11. Rarumi
12. Hotaru (Spitz cover)
13. Soratobu Kutsu
14. Yushoku Tomei