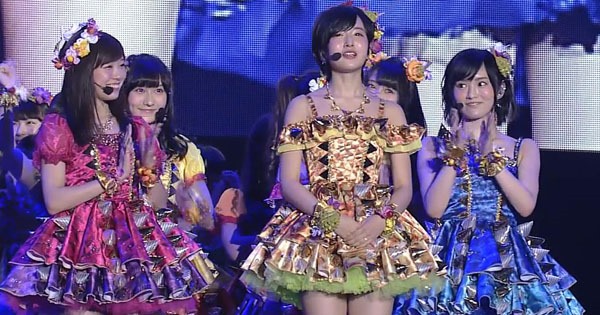 NMB48 announced new summer-themed single Durian Shōnen (ドリアン少年) and revealed a preview music video plus other details. Their 12th single features first-time center Sutō Ririka (18) and debuted during the AKB48 41st Single Senbatsu Sousenkyo held June 6th 2015. Single Durian Shōnen comes on four editions scheduled for release on July 15th 2015.
~ jacket covers and more PVs revealed ~
AKB48 sister group NMB48 most recently released 11th single Don't Look Back on March 31st 2015. The single features key original member Yamada Nana (山田菜々) as she graduated from the group with the release of the single.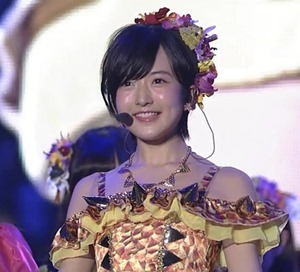 For their 12th single first-time center Sutō Ririka (須藤凛々花) with new short hair cut is featured. She joined NMB48 in 2013 as a member of the AKB48 Group 1st Draft Conference. The single's senbatsu features 19 members along with Sutō Ririka,
Ichikawa Miori, Umeda Ayaka, Ota Yuuri, Kato Yuuka, Kadowaki Kanako, Kusaka Konomi, Kotani Riho, Shibuya Nagisa, Jo Eriko, Jonishi Kei, Shiroma Miru, Tanigawa Airi, Fujie Reina, Murase Sae, Yagura Fuuko, Yabushita Shu, Yamamoto Sayaka, Yoshida Akari, Watanabe Miyuki.
Single Durian Shōnen comes on four editions (details subject to change). Jacket covers, full track list, and more details coming! (Pre-order links active!).
Preview music video for summer-themed Durian Shōnen after the release details.
NMB48 – Durian Shōnen (ドリアン少年) – release date July 15th 2015
Limited A [CD+DVD] (¥1524)


Limited B [CD+DVD] (¥1524)


[CD]
1. Durian Shounen
2. common coupling (TBA)
3. Inochi no Heso (Team N)
4. Durian Shounen (off vocal)
5. common coupling (off vocal)
6. Inochi no Heso (off vocal)

[DVD]
1. Durian Shounen (music video)
2. Durian Shounen (dance version)
3. Inochi no Heso (music video)
4. NMB48 feat. Yoshimoto Shinkigeki vol. 12

[CD]
1. Durian Shounen
2. common coupling (TBA)
3. Boku Dake no Secret time (Team M)
4. Durian Shounen (off vocal)
5. common coupling (off vocal)
6. Boku Dake no Secret time  (off vocal)

[DVD]
1. Durian Shounen (music video)
2. Durian Shounen (dance version)
3. Boku Dake no Secret time (music video)
4. Yamada Nana 24 Hours digest – Incidents

Limited C [CD+DVD] (¥1524)


Theater [CD]

[CD]
1. Durian Shounen
2. common coupling (TBA)
3. Kokoro no Moji wo Kake! (Team BII)
4. Durian Shounen (off vocal)
5. common coupling (off vocal)
6. Kokoro no Moji wo Kake! (off vocal)

[DVD]
1. Durian Shounen (music video)
2. Durian Shounen (dance version)
3. Kokoro no Moji wo Kake! (music video)
4. Sayonara, Kakato wo fumu hito (music video)
5. I Tried to Eat Durian in Taiwan

[CD]
1. Durian Shounen
2. common coupling (TBA)
3. Sayonara, Kakato wo fumu hito
4. Durian Shounen (off vocal)
5. common coupling (off vocal)
6. Sayonara, Kakato wo fumu hito (off vocal)