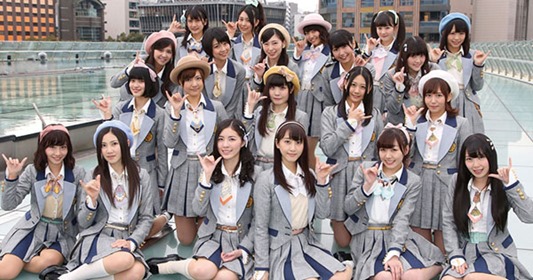 SKE48 revealed more details for their 17th single – Coquettish Juutai Chuu (コケティッシュ渋滞中) – jacket covers, full track list, and preview music video unveiled. The single's main coupling track Boku wa Shitte Iru has tie-up as theme song for their Documentary of SKE48 movie. Single Coquettish Juutai Chuu comes on 4 pairs of editions plus the theater version all releasing March 31st 2015 – updated details and PV follows.
SKE48's 17th single returns to featuring Matsui Jurina and Matsui Rena as centers along with 19 other members participating on the single's title song (full senbatsu below).
The AKB48 sister group's first documentary movie – Documentary of SKE48 – premiered February 27th 2015 in theaters across Japan. The movie chronicles the birth of the first sister group with a then 11-year old Matsui Jurina as center through their current activities as members beyond Matsui Jurina and Matsui Rena are voted into the Senbatsu Sousenkyo.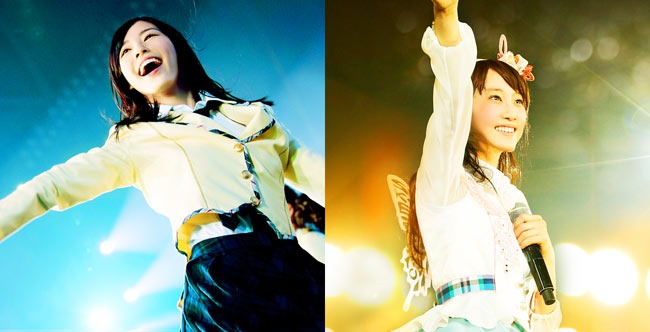 The new single's type-D features song Sakura, Oboete ite Kure (桜、覚えていてくれ) performed by special unit of graduating popular longtime members Sato Mieko (28), Nakanishi Yuuka (26), and Furukawa Airi (25). The included DVD has bonus graduation documentary as SKE48 says goodbye to longtime and popular members.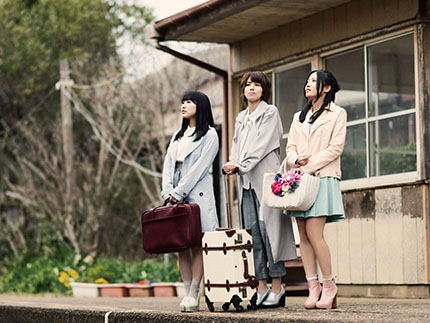 In addition to the CD releases their 17th single also comes on Music Card versions of all 58 members! The Music Card has serial code to download the title song for PC or smartphone. Only available via mu-mo shop (link below).
Single Coquettish Juutai Chuu comes on four pairs of Limited/Regular editions plus a theater CD-only version. Each edition pair has a different coupling track and DVD contents. Limited editions have different jacket covers and include a handshake event ticket and member photo (selection varies by edition).
Preview music video for title song and Documentary of SKE48 preview both after the release details.
SKE48 – Coquettish Juutai Chuu – release date December 10th 2014
Limited A [CD+DVD] (¥1524)


Regular A [CD+DVD] (¥1524)


[CD]
1. Coquettish Juutai Chuu 
2. DIRTY (Team S)
3. Boku wa Shitte Iru (theme Documentary of SKE48)
4. Coquettish Juutai Chuu (off vocal)
5. DIRTY (off vocal)
6. Boku wa Shitte Iru (off vocal)
[DVD]
1. Coquettish Juutai Chuu (music video)
2. DIRTY (music video)
3. Virtual SKE48 fan handshake
[CD]
1. Coquettish Juutai Chuu 
2. DIRTY (Team S)
3. Boku wa Shitte Iru (theme Documentary of SKE48)
4. Coquettish Juutai Chuu (off vocal)
5. DIRTY (off vocal)
6. Boku wa Shitte Iru (off vocal)
[DVD]
1. Coquettish Juutai Chuu (music video)
2. DIRTY (music video)
3. Virtual SKE48 fan handshake
Limited B [CD+DVD] (¥1524)


Regular B [CD+DVD] (¥1524)


[CD]
1. Coquettish Juutai Chuu 
2. Konya wa Join us! (Team KII)
3. Boku wa Shitte Iru 
4. Coquettish Juutai Chuu (off vocal)
5. undecided (off vocal)
6. Boku wa Shitte Iru (off vocal)
[DVD]
1. Coquettish Juutai Chuu (music video)
2. Konya wa Join us! (music video)
3. SKE48 versus God of Measurement (BS Fuji)
[CD]
1. Coquettish Juutai Chuu 
2. Konya wa Join us! (Team KII)
3. Boku wa Shitte Iru 
4. Coquettish Juutai Chuu (off vocal)
5. undecided (off vocal)
6. Boku wa Shitte Iru (off vocal)
[DVD]
1. Coquettish Juutai Chuu (music video)
2. Konya wa Join us! (music video)
3. SKE48 versus God of Measurement (BS Fuji)
Limited C [CD+DVD] (¥1524)


Regular C [CD+DVD] (¥1524)


[CD]
1. Coquettish Juutai Chuu 
2. Oto wo Keshita TV (Team E)
3. Boku wa Shitte Iru
4. Coquettish Juutai Chuu (off vocal)
5. Oto wo Keshita TV (off vocal)
6. Boku wa Shitte Iru (off vocal)
[DVD]
1. Coquettish Juutai Chuu (music video)
2. Oto wo Keshita TV (music video)
3. SKE48 Kenkyusei no Musha Shugyo ~ Ice Skating ~
[CD]
1. Coquettish Juutai Chuu 
2. Oto wo Keshita TV (Team E)
3. Boku wa Shitte Iru
4. Coquettish Juutai Chuu (off vocal)
5. Oto wo Keshita TV (off vocal)
6. Boku wa Shitte Iru (off vocal)
[DVD]
1. Coquettish Juutai Chuu (music video)
2. Oto wo Keshita TV (music video)
3. SKE48 Kenkyusei no Musha Shugyo ~ Ice Skating ~
Limited D [CD+DVD] (¥1524)


Regular D [CD+DVD] (¥1524)


[CD]
1. Coquettish Juutai Chuu 
2. Sakura Oboete ite Kure (Sato Mieko, Nakanishi Yuuka, Furukawa Airi)
3. Boku wa Shitte Iru
4. Coquettish Juutai Chuu (off vocal)
5. Sakura Oboete ite Kure (off vocal)
6. Boku wa Shitte Iru (off vocal)
[DVD]
1. Coquettish Juutai Chuu (music video)
2. Sakura Oboete ite Kure (music video)
3. Graduation Documentary of close members – Sayonara no Yokogao
[CD]
1. Coquettish Juutai Chuu 
2. Sakura Oboete ite Kure (Sato Mieko, Nakanishi Yuuka, Furukawa Airi)
3. Boku wa Shitte Iru
4. Coquettish Juutai Chuu (off vocal)
5. Sakura Oboete ite Kure (off vocal)
6. Boku wa Shitte Iru (off vocal)
[DVD]
1. Coquettish Juutai Chuu (music video)
2. Sakura Oboete ite Kure (music video)
3. Graduation Documentary of close members – Sayonara no Yokogao
Theater [CD] (¥1000)

[CD]
1. Coquettish Juutai Chuu 
2. Yoru no Kyokasho (Selection 17 AKB49 ~ Renai Kinshi Jorei ~)
3. Boku wa Shitte Iru 
4. SKE49 17th Single Medley
4. Coquettish Juutai Chuu (off vocal)
5. Yoru no Kyokasho (off vocal)
6. Boku wa Shitte Iru (off vocal)
*Senbatsu Members (first time in bold),
Team S: Azuma Rion, Oya Masana, Kitagawa Ryoha, Futamura Haruka, Matsui Jurina, Miyamae Ami, Miyazawa Sae
Team KII: Ego Yuna, Oba Mina, Goudo Saki, Takayanagi Akane, Furuhata Nao, Souda Sarina
Team E: Isohara Kyoka, Kimoto Kanon, Tani Marika, Sato Sumire, Shibata Aya, Suda Akari, Matsui Rena
Kenkyuusei: Matsumura Kaori
Documentary of SKE48 special site