February 14, 2015
-
toyNN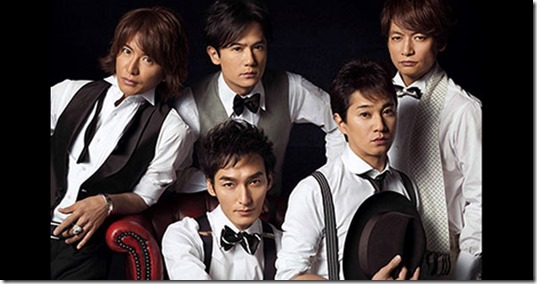 SMAP is getting ready to release new double a-side single Karei naru Gyakushu / Humor Shichau yo (華麗なる逆襲/ユーモアしちゃうよ) on February 18th 2015. Title track Karei naru Gyakushu, written by Ringo Sheena is featured as theme song for TV drama Zeni no Senso (銭の戦争) staring member Kusanagi Tsuyoshi. Their 54th single comes on three editions – read on for all the details.
Popular vocal group SMAP most recently released 21st original album Mr.S on September 3rd 2014.
Drama Zeni no Senso (銭の戦争) is a remake of original Korean drama from 2007. It stars Kusanagi Tsuyoshi as Shiraishi Tomio as Todai graduate with a phenomenal memory for numbers, engaged, and currently working at a major securities company. He inherits a huge debt from his father he's unable to repay leading to dismissal from his job and termination of engagement.
The drama also stars Oshima Yuko in her first major drama since graduating from AKB48 in 2014. It started airing on Fuji TV January 6th 2015 10:00pm.
Single Karei naru Gyakushu / Humor Shichau yo comes on three editions plus a bundled set. Limited editions and Regular First Press include a SMAPO serial code and SMAPO post card (varies by edition). [SMAPO is point system for rewards]. Additional purchase bonus (may vary by store) postcard (different type each edition). Bundled set adds the postcards and A5 clear file.
SMAP – Karei naru Gyakushu / Humor Shichau yo (華麗なる逆襲/ユーモアしちゃうよ) – release date February 18th 2015
Limited A [CD+DVD] (¥1500)


Limited B [CD+DVD] (¥1500)


[CD]
1. Karei naru Gyakushu
(preview)

2. Humor Shichau yo
3. Karei naru Gyakushu (off vocal)
4. Humor Shichau yo  (off vocal)
[DVD]
1. Karei naru Gyakushu (music video)

[CD]
1. Humor Shichau yo
2. Karei naru Gyakushu
3. Humor Shichau yo  (off vocal)
4. Karei naru Gyakushu (off vocal)
[DVD]
1. Humor Shichau yo (music video)
Regular [CD] (¥1200)


Bundled set of 3 (¥4200)


[CD]
1. Karei naru Gyakushu
2. Humor Shichau yo
3. Karei naru Gyakushu (tofubest remix)
4. Karei naru Gyakushu (off vocal)
5. Humor Shichau yo  (off vocal)
 
SMAP Official website at Johnny's net