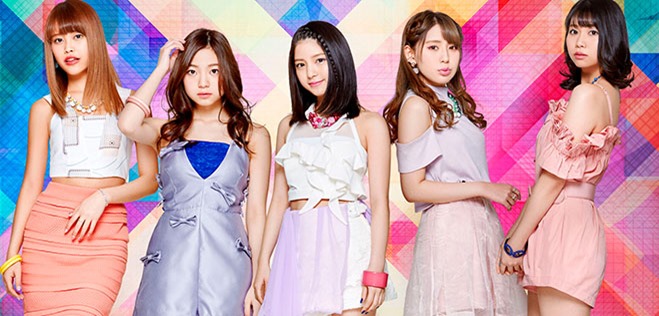 9nine announced new single Ai Ai Ai (愛 愛 愛) and revealed jacket covers, full track list, and preview music video. Their 15th single and first of 2016 may be the last for 9nine in their current line-up as member Kawashima Umika (center) announced she'll be leaving the group. Single Ai Ai Ai (Love Love Love) comes on six editions releasing May 3rd 2016.
Group center Kawashima Umika (22, 川島海荷) announced on April 6th 2016 that she would be leaving 9nine to focus on her acting career. Unit 9nine originally formed in 2005 and has undergone several line-up changes. Kawashima joined in 2007 and the group has featured the current members since 2010 with 5th single Cross Over (2010.12.01, ED1 STAR DRIVER).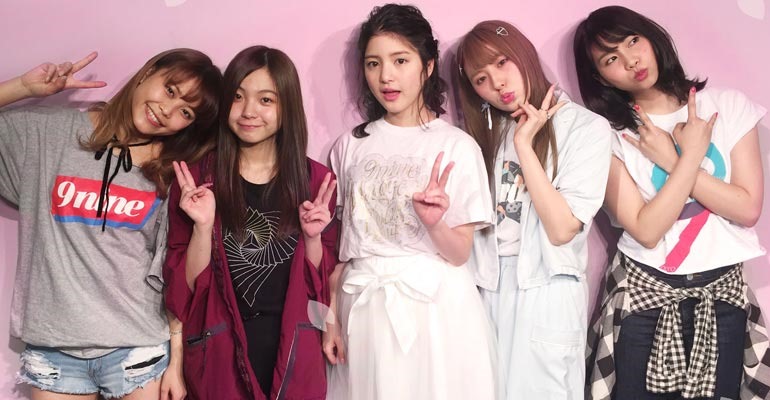 Their final tour as the current group has been announced – 9nine LIVE 2016 BEST 9 Tour – hits three major venues,
– July 1st 2016 Zepp Nagoya
– July 19th 2016 Zepp Namba
– July 23rd 2016 Nakano Sun Plaza Tokyo (Kawashima Umika final graduation)
9nine will continue as four member unit with (in photo order) Yoshii Kanae (吉井香奈恵) and Murata Hirona (村田寛奈) who joined in 2010 and Satake Uki (佐武宇綺) and Nishiwaki Ayaka (西脇彩華) who joined as original members in 2005. Member Satake Uki has branched out as a voice actor voiced Lillia in recently completed Nurse Witch Komugi R and will be voicing supporting character Tsubomi in anime Mob Psycho 100 that starts July 2016.
Single Ai Ai Ai comes on six editions. The five Limited edition DVDs each include a different live song.
Preview music video after the release details. *article updated
9nine – Ai Ai Ai (愛 愛 愛) – release date May 3rd 2016
Limited A [CD+DVD] (¥1111)


Limited B [CD+DVD] (¥1111)


[CD]
1. Ai Ai Ai
2. Atosukoshi Dake
3. Parinai
4. Ai Ai Ai (off vocal)
5. Atosukoshi Dake (off vocal)
6. Parinai (off vocal)

[DVD]
1. Ai Ai Ai (music video)
2. HAPPY 7 DAYS Kawashima Umika Edition (from 9nine Live Circuit 2015 Final at Hibiya Outdoor Stage)

[CD]
1. Ai Ai Ai
2. Atosukoshi Dake
3. Parinai
4. Ai Ai Ai (off vocal)
5. Atosukoshi Dake (off vocal)
6. Parinai (off vocal)

[DVD]
1. Ai Ai Ai (music video)
2. Cross Over Satake Uki Edition (from 9nine Live Circuit 2015 Final at Hibiya Outdoor Stage)

Limited C [CD+DVD] (¥1111)


Limited D [CD+DVD] (¥1111)


[CD]
1. Ai Ai Ai
2. Atosukoshi Dake
3. Parinai
4. Ai Ai Ai (off vocal)
5. Atosukoshi Dake (off vocal)
6. Parinai (off vocal)

[DVD]
1. Ai Ai Ai (music video)
2. Re: Murata Hirona Edition (from 9nine Live Circuit 2015 Final at Hibiya Outdoor Stage)

[CD]
1. Ai Ai Ai
2. Atosukoshi Dake
3. Parinai
4. Ai Ai Ai (off vocal)
5. Atosukoshi Dake (off vocal)
6. Parinai (off vocal)

[DVD]
1. Ai Ai Ai (music video)
2. SHINING☆STAR Yoshii Kanae Edition (from 9nine Live Circuit 2015 Final at Hibiya Outdoor Stage)

Limited E [CD+DVD] (¥1111)


Regular [CD] (¥926)         


[CD]
1. Ai Ai Ai
2. Atosukoshi Dake
3. Parinai
4. Ai Ai Ai (off vocal)
5. Atosukoshi Dake (off vocal)
6. Parinai (off vocal)

[DVD]
1. Ai Ai Ai (music video)
2. With You / With Me Nishiwaki Ayaka Edition (from 9nine Live Circuit 2015 Final at Hibiya Outdoor Stage)

[CD]
1. Ai Ai Ai
2. Atosukoshi Dake
3. Parinai
4. Ai Ai Ai (off vocal)
5. Atosukoshi Dake (off vocal)
6. Parinai (off vocal)