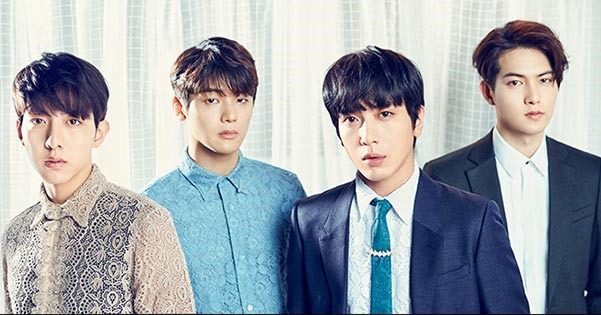 CNBLUE is getting ready to release new Japanese single Puzzle and recently unveiled the jacket covers, full track list, and full music video. Their 10th Japanese single has "marriage" theme and is written by member Jung Yong Hwa with coupling track written by member Lee Jong Hyun. Single Puzzle comes on three editions plus a fanclub version all hitting stores May 11th 2016.
Korean band CNBLUE also released 6th mini-album Bleuming in Korea on April 4th 2016. In Japan they most recently released 4th Japanese album colors on September 30th 2015.
Single Puzzle comes on four editions. Limited and Regular editions each include a different karaoke track. Each includes application code for awards lottery for mini-puzzle (200 people) featuring image below (1 of 4),
Music video after release details.
CNBLUE – Puzzle – release date May 11th 2016
Limited A [CD+DVD] (¥2400)


Limited B [CD] (¥2000)


[CD]
1. Puzzle
lyrics: Jung Yong Hwa (translated Hasegawa), music: Jung Yong Hwa and others

2. Take me higher
lyrics: Jung Yong Hwa and Ogawa Takashi, music: Jung Yong Hwa and others

3. Be my love
lyrics: Lee Jong Hyun, music: Lee Jong Hyun and others

4. Take me higher (off vocal)

[DVD]
1. Spring Live 2015 'WHITE' at Yokohama Arena – multi-angle
2. Puzzle (music video)
3. bonus footage

[CD]
1. Puzzle
2. Take me higher
3. Be my love
4. Be my love (off vocal)

[DVD]
2015 Arena Tour ~ Be a Supernova ~ at Osaka Castle Hall – multi-angle

Regular [CD] (¥1200)


Fanclub BOICE [CD+DVD] (¥2400)

[CD]
1. Puzzle
2. Take me higher
3. Be my love
4. Puzzle (off vocal)
[CD]
1. Puzzle
2. Take me higher
3. Be my love
4. Puzzle (off vocal)

[DVD]

1. LIVE from CNBLUE OFFICIAL FAN MEETING 2015 BOICE "Summer Festival"
  Let's Go Crazy
  HEART song
  STAY SOBER
  Foxy
  WHITE
  Radio
2. BOICE Special Movie "Bouquet making"
CNBLUE Official website (Japanese)