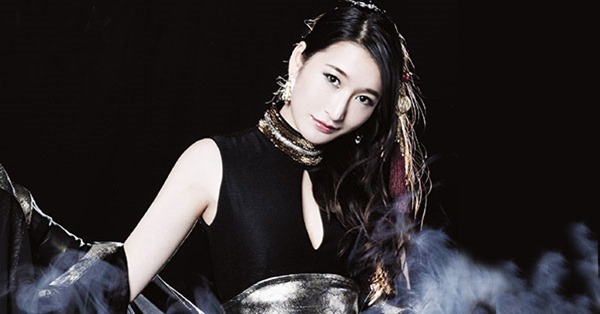 ELISA is about to release to release mini-album ANICHRO that includes four covers of hit anime theme songs. The album's title is a combination of "Anime" and "Chronicle". Mini-album ANICHRO comes on three editions that hits stores March 23rd 2016.
The album includes four anime tied songs:
1. Kimi wo Nosete (君をのせて) – Castle in the Sky insert song, orig: Inoue Azumi (1986)
2. Platinum – Card Captor Sakura OP3, orig. Maaya Sakamoto (2000)
3. Himitsu Kichi (秘密基地) – Eureka Seven ED, orig: Takada Kozue (2005)
4. JoJo ~ Sono Chi no Sadame ~ (ジョジョ 〜その血の運命〜) -  JoJo's Bizarre Adventure OP, orig. Tominaga "Tommy" Hiroaki (2012)  
Singer/model ELISA last released single EONIAN (イオニアン) (officially credited as ELISA connect EFP) on November 12th 2014. Her 13th single is featured as the theme song for anime movie Rakuen Tsuiho – Expelled from Paradise (楽園追放).
Mini-album ANICHRO comes on three editions. Limited includes Blu-ray or DVD withnew music video and documentary footage. Bonus artist message card included with Limited and First Press Regular editions (type varies by edition). Plus most stores off A3-size poster.
ELISA – ANICHRO – release date March 23rd 2016
Limited A [CD+BD] (¥1852)


Limited B [CD+DVD] (¥1667)


[CD]
1. Kimi wo Nosete (Castle in the Sky Insert)
2. Platinum (Card Captor Sakura OP)
3. Himitsu Kichi (Eureka Seven ED)
4. JoJo ~ Sono Chi no Sadame ~ (JoJo's Bizarre Adventure OP)       

[BD]
1. Kimi wo Nosete (music video)
2. making-of music video documentary

[CD]
1. Kimi wo Nosete
2. Platinum
3. Himitsu Kichi
4. JoJo ~ Sono Chi no Sadame ~    

[DVD]
1. Kimi wo Nosete (music video)
2. making-of music video documentary

Regular [CD] (¥1389)


[CD]
1. Kimi wo Nosete
2. Platinum
3. Himitsu Kichi
4. JoJo ~ Sono Chi no Sadame ~