Galileo Galilei is getting ready to release their greatest hits album Sharin no Jiku (車輪の軸). The album is the final release from the band who announced in January they will cease activities. Album Sharin no Jiku comes on two editions hitting stores June 15th 2016.
Band Galileo Galilei based out of Hokkaido formed in 2007 by then junior high school students brothers Ozaki Yuuki (25), Ozaki Kazuki (23), and Sako Hitoshi (24) along with Sohei Funaya who left in 2009. The band had their major label debut Hamanasu no Hana (ハマナスの花)  with SME Japan February 24th 2010. Other members have joined the band a various times – Iwai Fumito and Noguchi Kazumasa left in 2012 to form their own band FOLKS.
Many of Galileo Galilei's singles have been featured as anime theme songs including (plus others),
Climber (2015.12.09) ED second season anime Haikyu!!.
Arashi no Ato de (2015.06.10) theme Typhoon no Noruda. 
Koi no Jumyo (2015.03.11) ED Magic Kaito 1412.
Asu e (2011.10.09) OP Mobile Suit Gundam AGE.
Aoi Shiori (2011.06.15) OP Anohana: The Flower We Saw That Day.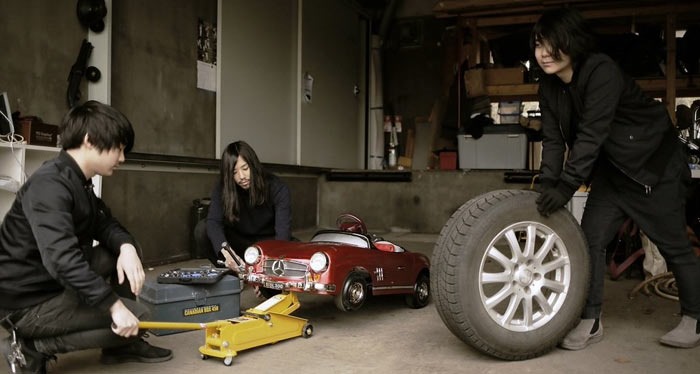 Galileo Galilei will hold their final concert – Galileo Galilei Last Live Sharin no Jiku at Nippon Budokan October 11th 2016. More details at their official website (link below).
Greatest hits album Sharin no Jiku (車輪の軸) comes on two editions.  Limited includes music video collection plus booklet and deluxe case,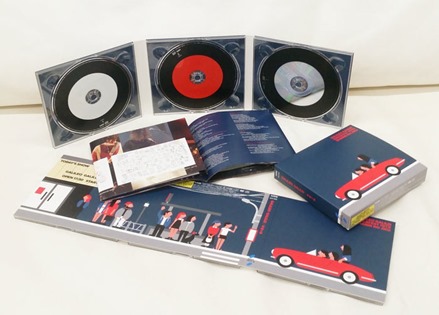 Most stores offer bonus poster with either edition purchased (while supplies last).
Music video for Studio Session Sea and The Darkness / Aoi Chi and most recently single Climber afther the release details.
Galileo Galilei – Sharin no Jiku – release date June 15th 2016
| | |
| --- | --- |
| Limited [2CD+DVD] (¥4907) | Regular [2CD] (¥3148) |
[CD1]   
1. KANSEITO (管制塔)
2. HAMANASU NO HANA (ハマナスの花)
3. NATSUZORA (夏空)
4. YOTSUBA SAGASHI NO TABIBITO (四ツ葉さがしの旅人)
5. BOKU KARA KIMI WE (僕から君へ)
6. AOI SHIORI (青い栞)
7. SAYONARA FRONTIER (さよならフロンティア)
8. ASU E (明日へ)
9. CIRCLE GAME (サークルゲーム)
10. KOI NO JYUMYO (恋の寿命)
11. ARASHI NO ATO DE (嵐のあとで)
12. CLIMBER (クライマー)
13. SHARIN NO JIKU (車輪の軸)
14. FLAT (livetune adding Yuuki Ozaki(from Galileo Galilei))
15. Trigger (Yuuki Ozaki)
16. DOU-KYU-SEI (同級生) (OSHIO KOTARO with Yuuki Ozaki(from Galileo Galilei))

[CD2]        
1. HELLO GOODBYE (ハローグッバイ)
2. WAKKANAI (稚内)
3. SIREN
4. Imaginary Friends
5. ROUJINTOUMI (老人と海)
6. YUME NI UTAEBA (夢に唄えば)
7. SHIO NO TOBIRA (潮の扉)
8. Birthday
9. SUNNY DAY HAPPY END (サニーデイハッピーエンド)
10. BANANAFISH NO HAMABE TO KUROINIJI (バナナフィッシュの浜辺と黒い虹 (Yuuki Ozaki ver.))
11. SHINAI NARU KIMI HE (親愛なるきみへ)
12. GHOST (ゴースト)
13. TORI TO TORI (鳥と鳥)
14. AOI CHI (青い血)
15. Sea and The Darkness II (Totally Black)

[DVD] Music video collection (Limited Edition)
1. HAMANASU NO HANA (ハマナスの花)
2. NATSUZORA (夏空)
3. YOTSUBA SAGASHI NO TABIBITO (四ツ葉さがしの旅人)
4. BOKU KARA KIMI WE (僕から君へ)
5. KANSEITO (acoustic)
6. AOI SHIORI (青い栞)
7. SAYONARA FRONTIER (さよならフロンティア)
8. ASU E (明日へ)
9. LIZZIE
10. CIRCLE GAME (サークルゲーム)
11. Hellogoodbye
12. Mrs. Summer
13. BANANAFISH NO HAMABE TO KUROINIJI (with Aimer)
14. KOI NO JYUMYO (恋の寿命)
15. ARASHI NO ATO DE (嵐のあとで)
16. CLIMBER (クライマー)
17. Wednesday
18. Studio Session (Sea and The Darkness / Aoi Chi)