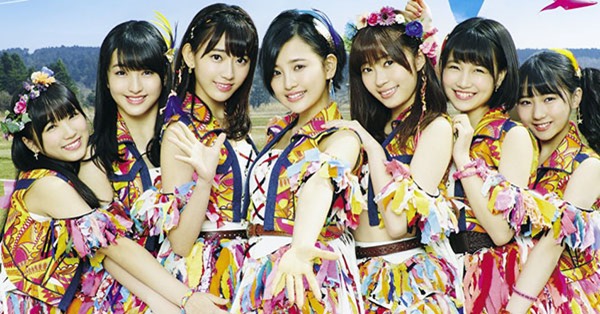 HKT48 updated the details for new single 74 Okubun no 1 no Kimi e (74億分の1の君へ) – jacket covers and full track list unveiled. Their 7th single features Kodama Haruka as center – her 4th selection. Single 74 Okubun no 1 no Kimi e comes on four editions hitting stores April 13th 2016.
The title track on the single gets tie-up as TVCM song for Kumamoto Nichinichi Newspaper and is also featured in a new set of TVCM spots with HKT48 members promoting the Tokyo Monorail "Yarujan! Monorail". HKT48 has previously provided CM campaign songs for both.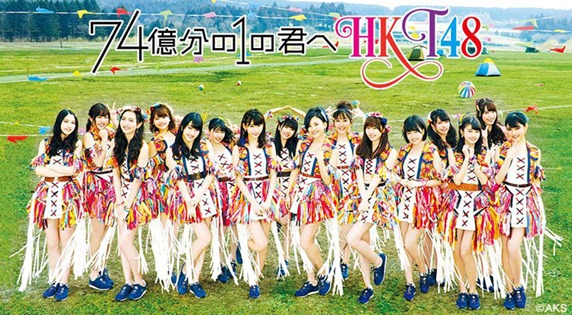 The 16 senbatsu members performing on the title track of their upcoming single,
Anai Chihiro, Kojina Yui, Ota Aika, Moriyasu Madoka, Yabuki Nako, Matsuoka Natsumi,  Miyawaki Sakura, Fuchigami Mai, Tanaka Miku, Tashima Meru, Tomonaga Mio, Kodama Haruka (center), Sakaguchi Riko, *Tanaka Natsumi, *Matsuoka Hana, and Sashihara Rino
*first time senbatsu
AKB48 sister unit HTK48 based out of Hakata Fukuoka most recently released 6th single Shekarashika! (しぇからしか!) on November 25th 2015. The single is a collaboration with band Kishidan and has tie-up as theme song for prequel episode Majisuka Gakuen 0 Kisarazu Brawl-hen. The episode, set before the events of Majisuka Gakuen 5 and features members of HKT48 and Kishidan as adversaries.
New single 74 Okubun no 1 no Kimi e (74億分の1の君へ) comes on four editions. First Press versions include hand-shake event ticket plus pocket-size calendar (1 of 16) and member photo (1 of many).
TVCM spots for HKT48 x Tokyo Monorail and live clip of 74 Okubun no 1 no Kimi e (at 3:35) from their Sashiko do Soleil 2016 held March 30th 2016 at Marine Messe Fukuoka both after the release details.
HKT48 – 74 Okubun no 1 no Kimi e – release date April 13th 2016
Limited A [CD+DVD] (¥1524)


Limited B [CD+DVD] (¥1524)


[CD]
1. 74 Okubun no 1 no Kimi e
2. Chain of love
3. Taboo no Iro (Miyawaki Sakura & Kodama Haruka) 
4. 74 Okubun no 1 no Kimi e (off vocal)
5. Chain of love (off vocal)
6. Taboo no Iro (off vocal)

[DVD]
1. 74 Okubun no 1 no Kimi e (music video)
2. Taboo no Iro (music video)
3. Japan's Best Spots Mystery Tour pt1 

[CD]
1. 74 Okubun no 1 no Kimi e
2. Chain of love
3. HKT-jou, Ima, Ugoku (Platinum Girls) 
4. 74 Okubun no 1 no Kimi e (off vocal)
5. Chain of love (off vocal)
6. HKT-jou, Ima, Ugoku (off vocal)

[DVD]
1. 74 Okubun no 1 no Kimi e (music video)
2. HKT-jou, Ima, Ugoku (music video)
3. Japan's Best Spots Mystery Tour pt2

Limited C [CD+DVD] (¥1524)


Theater [CD] (¥952)

[CD]
1. 74 Okubun no 1 no Kimi e
2. Chain of love
3. Einstein Yori Dianna Agron (Yabuki Nako, Tanaka Miku, Tashima Meru, Tomonaga Mio)
4. 74 Okubun no 1 no Kimi e (off vocal)
5. Chain of love (off vocal)
6. Einstein Yori Dianna Agron  (off vocal)

[DVD]
1. 74 Okubun no 1 no Kimi e (music video)
2. Einstein Yori Dianna Agron (music video)
3. Japan's Most Heated Unscripted Survival Game

[CD]
1. 74 Okubun no 1 no Kimi e
2. Chain of love
3. Zuuzuushisa wo Kashite Choudai
4. 74 Okubun no 1 no Kimi e (off vocal)
5. Chain of love (off vocal)
6. Zuuzuushisa wo Kashite Choudai (off vocal)