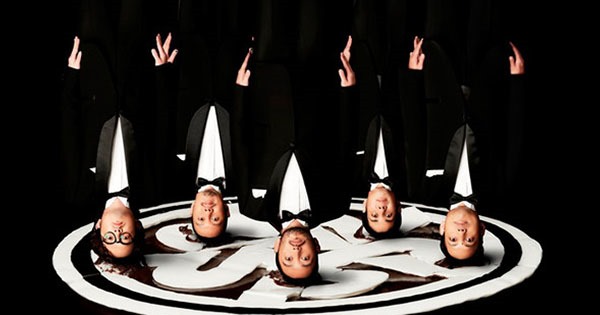 ORANGE RANGE just released new album EN BAN (縁盤) that features 15 tracks re-arranged by members and guest artists. The best album is part of their 15th anniversary celebration. Album EN BAN comes on two editions that hit stores July 20th 2016.
Most recently the long-time rock band ORANGE RANGE released 10th album TEN on August 26th 2015. In conjunction with their 15th anniversary they're launching a LIVE TOUR 016-017 with performances planned for 47 prefectures in Japan. The tour starts September 10th 2016 at Sun City Koshigaya Hall (Saitama) and final performance February 25th 2017 at Nippon Budokan. More details at special tour website (link below).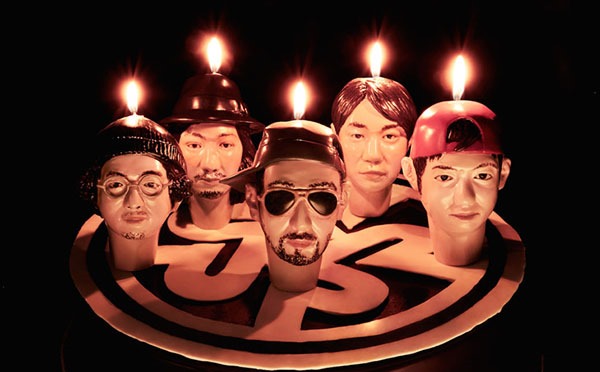 Album EN BAN (縁盤) comes on two editions. Limited includes DVD with select live performances between 2010-2015 and 96-page booklet with member interviews, comments, roundtable discussion, and more. First Press versions add bonus sticker.
Preview music video track Ishin Denshin (以心電信 / ORANGE RANGE×MONGOL800) after the release details.
ORANGE RANGE – EN BAN (縁盤) – release date July 20th 2015
| | |
| --- | --- |
| Limited [CD+DVD] (¥5926) | Regular [CD] (¥3056) |
[CD]
01. KiriKiriMai (キリキリマイ / ORANGE RANGE×ORANGE RANGE)
02. Ishin Denshin (以心電信 / ORANGE RANGE×MONGOL800)
03. Kizuna (キズナ / ORANGE RANGE×Kisugi Takao )
04. Walk on  (ORANGE RANGE×よなは徹 with リュウグウノツカイ )
05. GOD69 (ORANGE RANGE×岡峰光舟(THE BACK HORN), 有松益男(BACK DROP BOMB), 男鹿 なまはげ太鼓 )
06. ウトゥルサヌ / ORANGE RANGE×高橋幸宏 with リュウグウノツカイ )
07. SUSHI Tabetai feat. Soy Sauce (ORANGE RANGE×Sugar's Campaign)
08. Oni Goroshi (鬼ゴロシ / ORANGE RANGE×SASSY(INKT) )
09. Champion (チャンピオーネ / ORANGE RANGE×山内中学校吹奏楽部 )
10. Иatural Pop (ORANGE RANGE×Kuboty(TOTALFAT) with リュウグウノツカイ)
11. Hana (花 / ORANGE RANGE×K)
12. one (ORANGE RANGE×山元タイム, ふじ幼稚園)
13. SP Thanx (ORANGE RANGE×You with 安次嶺希和子)
14. Silent Night (ORANGE RANGE×琉球國祭り太鼓, ARIA with 安次嶺希和子)
15. Koko ni Iru yo (ここにいるよ / ORANGE RANGE×シライシ紗トリ)

[DVD] LIVE SELECTION "2010-2015"
01. イケナイ太陽 (LIVE TOUR 010-011 ~orcd~ / 2010.12.21@Zepp Tokyo)
02. 君 station (LIVE TOUR 012 ~NEO POP STANDARD~ / 2012.07.04@渋谷公会堂)
03. お願い!セニョリータ (LIVE TOUR 012 ~NEO POP STANDARD~ / 2012.07.04@渋谷公会堂)
04. ロコローション (RANGE AID+ presents RWD← SCREAM 013 / 2013.02.23@Zepp Tokyo)
05. 祭男爵 (RANGE AID+ presents RWD← SCREAM 013 / 2013.02.23@Zepp Tokyo)
06. ミチシルベ ~a road home~ (RANGE AID+ presents RWD← SCREAM 013 / 2013.02.23@Zepp Tokyo)
07. ビバ★ロック (LIVE TOUR 013 ~spark~ / 2013.12.19@渋谷公会堂)
08. SAYONARA (テブラ DE ゴメン TOUR 014 / 2014.12.17@渋谷公会堂)
09. *~アスタリスク~ (テブラ DE ゴメン TOUR 014 / 2014.12.17@渋谷公会堂)
10. ラヴ・パレード (RANGE AID+ presents RWD← SCREAM 015 / 2015.05.09@Zepp Namba)
11. 瞳の先に (LIVE TOUR 015 ~TEN~ / 2015.12.08@中野サンプラザホール)
12. 上海ハニー (LIVE TOUR 015 ~TEN~ / 2015.12.08@中野サンプラザホール)
ORANGE RANGE special 15th anniversary site