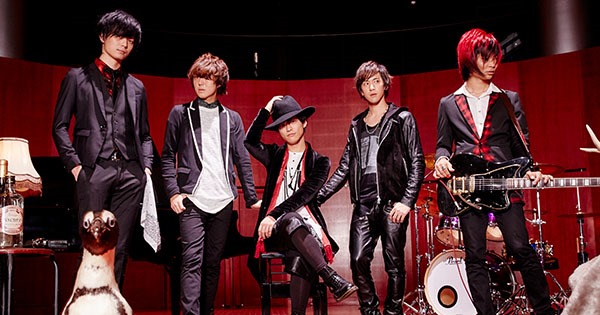 Unit PENGUIN RESEARCH revealed jacket covers, full track list plus audio preview for 1st single Joker ni Yoroshiku (Say Hello to Joker, ジョーカーに宜しく). Their debut single has tie-up as ending theme for anime Durarara!! X2 Ketsu (結). Single Joker ni Yoroshiku comes on two editions hitting stores January 20th 2016.
PENGUIN RESEARCH formed earlier this year around composer/bassist Horie Shota (堀江晶太) and vocalist/voice actor Ikuta Yoji (生田鷹司). Other unit members include Shibazaki Yosuke (Key), Kanda John (Gr), and Shinbo Keita (Dr).
Horie Shota (center) has worked as composer/arranger for many anisong artists such as LiSA, Minori Chihara, Sasaki Sayaka, Minako Kotobuki, and others.

Anime Durarara!! is adapted from light novel series by Narita Ryohgo (illustrated by Yasuda Suzuhito). The story follows underworld and gang activities around Ikebukuro. Supernatural happenings, headless rider Celty, and more chaos continues in the 3rd part of the TV series second season Durarara!! X2 Third Arc (Ketsu 結).
The anime airs starting January 9th 2016 on Tokyo MX in Japan. Provider Crunchyroll has the previous seasons available on demand and simulcasts the new season. Check our Crunchyroll updates page or hit the link for Durarara!! X2 Ketsu for episodes and related stories.
Band FLOW provides the opening theme with their 29th single Steppin' out.
Single Joker ni Yoroshiku (Say Hello To Joker, ジョーカーに宜しく) two editions. First Press version on both editions adds bonus sticker(s).
Audio preview below and anime trailers after the release details.
PENGUIN RESEARCH – Joker ni Yoroshiku – release date January 20th 2016
Limited [CD+DVD] (¥1481)


Regular [CD] (¥1204)


[CD]
1. Joker ni Yoroshiku
(preview)

2. wasteland
3. Joker ni Yoroshiku (off vocal)

[DVD]
1. Joker ni Yoroshiku (music video)
2. Durarara!! X2 special video

[CD]
1. Joker ni Yoroshiku
2. wasteland
3. Critical Hit
4. Joker ni Yoroshiku (off vocal)

       
Durarara!! official site (Japan)
Durarara!! X2 official site (USA)
PENGUIN RESEARCH official site