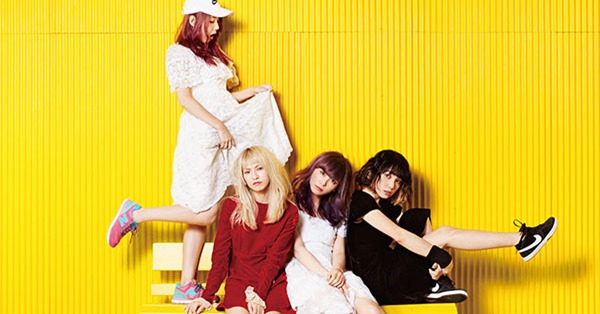 SCANDAL updated the release details for new album YELLOW – jacket covers, full track list, and more revealed. Their 7th original album includes new song Morning Sun featured as theme for movie Neko Nanka Yonde mo Konai (猫なんかよんでもこない.). Album YELLOW comes on three editions hitting stores March 2nd 2016. Release details and PVs follow.
The new album has 12 tracks plus a bonus 13th song. The track list includes their 22nd single Sisters (2015.09.09) and 21st single Stamp! (2015.07.22) plus track Chisa Naho no wo (ちいさなほのお) featured as theme song for their documentary film HELLO WORLD (2015.10.17).
The band is celebrating their 10th anniversary in 2016. A special event SCANDAL 10th ANNIVERSARY FESTIVAL 2006-2016 happens in their hometown August 21st 2016 at Osaka Izumiotsu Phoenix (two shows). More details at their website (link below).
Album YELLOW comes on three editions. Limited A includes special original T-shirt. All include application code for lottery to attend a SCANDAL TOUR 2016 YELLOW Meet & Greet events.
Audio preview video for new song SUKI-SUKI plus New Years message from SCANDAL members and Nekoyon movie preview all after the release details
 SCANDAL – YELLOW – release date March 2nd 2016
Limited A [CD+T-shirt] (¥4815) 


Limited B [CD+DVD] (¥3426) 


[CD]
1. Room No. 7
2. Stamp! (21st sgl)
3. LOVE ME DO
4. Morning Sun
5. Sunday Drive
6. Konya wa Pizza Party
7. Heaven Kibun
8. SUKI-SUKI
9. LOVE
10. Sisters (22nd sgl)
11. Happy Birthday
12. Chisa Naho no wo
13. Your song (English ver.)
[CD]
1. Room No. 7
2. Stamp!
3. LOVE ME DO
4. Morning Sun
5. Sunday Drive
6. Konya wa Pizza Party
7. Heaven Kibun
8. SUKI-SUKI
9. LOVE
10. Sisters 
11. Happy Birthday
12. Chisa Naho no wo
13. Your song (English ver.)  

[DVD]
1. YELLOW opening movie Room No. 7

Regular [CD] (¥2963)


 
[CD]
1. Room No. 7
2. Stamp!
3. LOVE ME DO
4. Morning Sun
5. Sunday Drive
6. Konya wa Pizza Party
7. Heaven Kibun
8. SUKI-SUKI
9. LOVE
10. Sisters 
11. Happy Birthday
12. Chisa Naho no wo
13. Your song (English ver.)  
 
SCANDAL Documentary Film HELLO WORLD