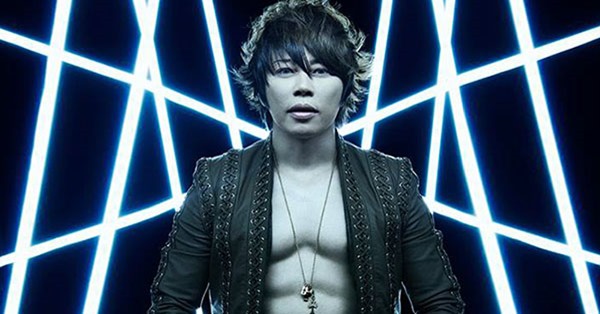 T.M.Revolution (T.M.R) celebrates his 20th anniversary in 2016. His greatest hits album 2020 – T.M.Revolution ALL TIME BEST spans 3 CDs with 40 total songs. The album comes on two editions hitting stores May 11th 2016. More details and preview videos follow.
Talented singer and producer Nishikawa Takanori as T.M.Revolution debuted May 13th 1996 with single Dokusai -monopolize- (独裁 -monopolize-). His 2020 – ALL TIME BEST album includes all of his singles plus main album songs grouped chronologically across the 3 CDs.
The album includes both title songs from his current single Committed RED / Inherit the Force. The single just released on April 6th 2016 as the first release of his 20th anniversary releases.
T.M.R also collaborates on upcoming single from Korean unit AOA – Ai wo Chodai feat. TAKANORI NISHIKAWA (T.M.Revolution) that releases April 20th 2016.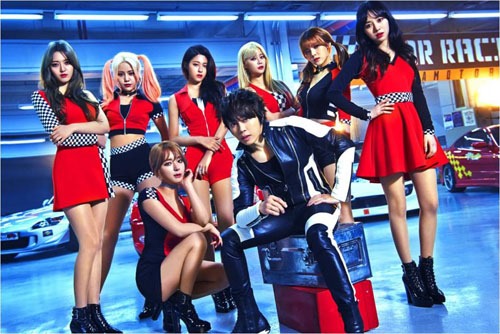 A Dance HOT LIMIT music video campaign has launched for fans to submit videos of them dressed in his classic black banded outfit and performing HOT LIMIT. A promotional video shows how you can mimic the outfit at home using black duct-tape. Promotion video and link to campaign rules below.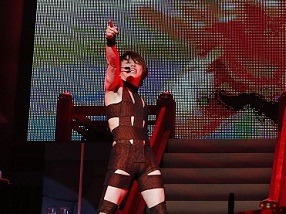 Album 2020 – T.M.Revolution ALL TIME BEST comes on two editions. Most stores offer sticker sheet of past T.M.R images as bonus while supplies last and images vary by store (common store sample),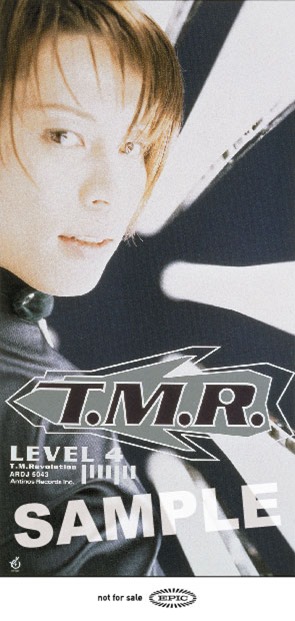 New music videos for Committed RED and Inherit the Force plus HOT LIMIT promotion video all after the release details.
T.M.Revolution – 2020 – ALL TIME BEST – release date May 11th 2016
Limited [CD+CD] (¥4556)


Regular [CD] (¥3630)


[CD1]

1. Dokusai -monopolize-
2. Heso Shukujo -Venus-
3. HEART OF SWORD ~Yoake Mae~
4. LEVEL 4
5. HIGH PRESSURE
6. WHITE BREATH
7. Aoi Hekireki ~JOG edit~
8. HOT LIMIT
9. THUNDERBIRD
10. Burnin' X'mas
11. WILD RUSH
12. BLACK OR WHITE? neo classic
13. HEAT CAPACITY
14. Madan ~ Der Freischutz~
15. LOVE SAVER

[CD2]
1. BOARDING
2. Out Of Orbit ~Triple ZERO~
3. INVOKE
4. Meteor-ミーティア-
5. Albireo-アルビレオ-
6. Web of Night
7. ignited-イグナイテッドー
8. vestige-ヴェスティージ-
9. crosswise
10. resonance
11. Lakers
12. Naked arms
13. SWORD SUMMIT
14. Save The One, Save The All

[CD3]
1. FLAGS
2. Summer Blizzard
3. HEAVEN ONLY KNOWS ~Get the Power~
4. Count ZERO 
5. Tsuki Yabureru – Time to SMASH! 
6. Phantom Pain 
7. DOUBLE-DEAL 
8. Inherit the Force
9. Committed RED
10. Preserved Roses 
11. Kakumei Dualism 

[DVD]
1. 20 years of Nishikawa-chan in 2020-seconds

[CD]
1. Dokusai -monopolize-
2. Heso Shukujo -Venus-
3. HEART OF SWORD ~Yoake Mae~
4. LEVEL 4
5. HIGH PRESSURE
6. WHITE BREATH
7. Aoi Hekireki ~JOG edit~
8. HOT LIMIT
9. THUNDERBIRD
10. Burnin' X'mas
11. WILD RUSH
12. BLACK OR WHITE? neo classic
13. HEAT CAPACITY
14. Madan ~ Der Freischutz~
15. LOVE SAVER

[CD2]
1. BOARDING
2. Out Of Orbit ~Triple ZERO~
3. INVOKE
4. Meteor-ミーティア-
5. Albireo-アルビレオ-
6. Web of Night
7. ignited-イグナイテッドー
8. vestige-ヴェスティージ-
9. crosswise
10. resonance
11. Lakers
12. Naked arms
13. SWORD SUMMIT
14. Save The One, Save The All

[CD3]
1. FLAGS
2. Summer Blizzard
3. HEAVEN ONLY KNOWS ~Get the Power~
4. Count ZERO
5. Tsuki Yabureru – Time to SMASH! 
6. Phantom Pain 
7. DOUBLE-DEAL 
8. Inherit the Force
9. Committed RED
10. Preserved Roses 
11. Kakumei Dualism
T.M.Revolution Official website
T.M.R. 20th Anniversary HOT LIMIT MV participation