All Nippon Airways (ANA) in collaboration with Sotsu(Bandai) and Sunrise(Bandai) have launched the ANAxGundam Sky Project to commemorate the 30th Anniversary of the Gundam franchise.  The
Boeing 777-300 aircraft is themed with a life-size Gundam images and lettering.

Its maiden flight is set for July 16, 2010 (Friday) as ANA25 from Tokyo (Haneda) to Osaka (Itami) (as of July 9th appears 9 seats still available).

First flight passengers will receive a certificate signifying their participation in this maiden flight on the ANAxGundam 30th Anniversary plane.
(more on fights and special offers after the jump)
The special 777-300 is tentatively scheduled for flights from July 16, 2010 – March 31, 2011. List of flights/routes featuring the special themed plane can be found at the ANAxGundam Sky Project promotion page.
In addition, passengers of any domestic ANA Group flight from July 1 to August 31 will have the chance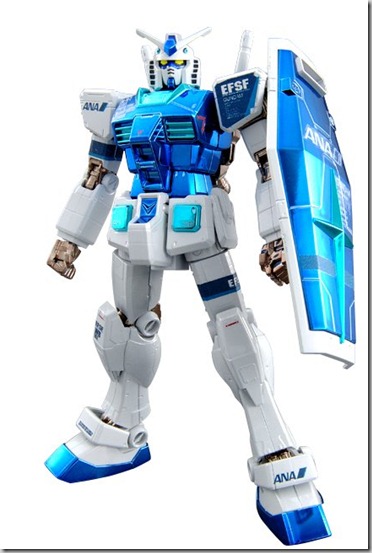 to buy an ANAxGundam original version of the High Grade 1/144th scale Gundam G30th plastic model kit for ¥3,000. For those passengers who need a bit more Gundam, ANA will offer those who fly any ANA Group flight (domestic or international) from July 1, 2010 to February 28, 2011 the chance to buy the same in a 1/48th scale (Mega) version Gundam G30th for ¥8,500.
Additional information follow the link to ANAxGundam Sky Project promotion page or to reserve your seat follow the link to ANA's main reservation page (English).