Kawashima Umika told about her movie "Watashi no Yasashikunai Senpai" and tell how her first kiss scene conducted
Finally Kawashima and Kanada talked about the kiss scene they had during the movie.
Here are some interview got from KawaiiJoyuu about kissing scene~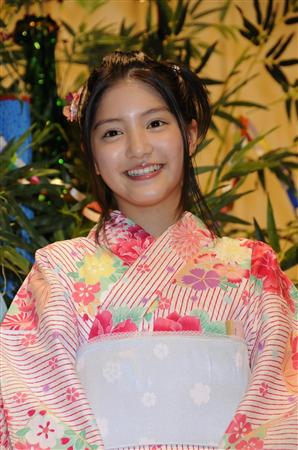 Kanada: "We really kissed!!"
(everyone is laughing)
Kawashima: "I was strangely nervous in front of that scene. It was my first kiss scene after all, so I continuously thought about how to do it right, even while filming that very scene. However, after having watched the final movie, I'm glad that it turned out into a beautiful scene."

Yamamoto: "You really didn't stop being tense."

Kanada: "I was nervous too! It's Kawashima Umika after all. I thought that it might be her first kiss for real, so I started to practice with a pillow a countless of times the day before! I brushed my teeth many times prior to the actual scene and continued to practice wit air kisses at the set. Then it was time for the kiss. We got the OK after one try and I felt like I could finally release all that tension, when suddenly Umika-chan came to me and said, thank you very much. I was so moved and started to cry."

Kawashima: "It was the first time I saw him crying like that."

Kanada: "Anyway, just as expected her lips were very soft and fresh. It didn't seem like she had a kiss before."

Kawashima, however, decided not to reveal whether that was her first kiss or not.
"That will stay my secret forever! If I talked about that in public, I wouldn't be able to go to school tomorrow," she replied and laughed.
mato-kun – damn u kanada..WTH with "her lips were very soft and fresh"!!
Full interview below
Source – KawaiiJoyuu