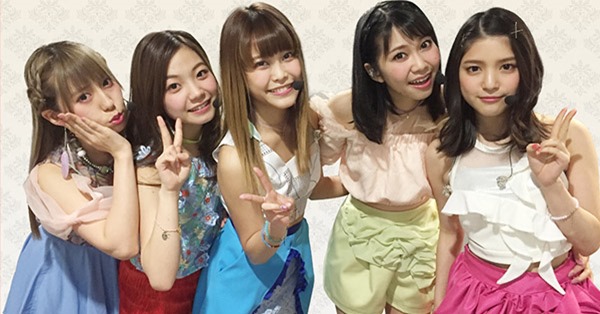 9nine revealed details for their first greatest hits album Best9! The album includes all 15 of their singles in their current formation for 16 total tracks plus Limited edition on DVD or Blu-ray includes music video collection. Album Best9 comes on four editions scheduled for release on June 22nd 2016.
~ updated details ~
The album includes their newest single Ai Ai Ai (愛 愛 愛) that released May 3rd 2016. The new single and greatest hits album mark the transition of 9nine as member Kawashima Umika (right) announced she'll be leaving the group in July 2016.
Group center Kawashima Umika (22, 川島海荷) announced on April 6th 2016 that she would be leaving 9nine to focus on her acting career. Unit 9nine originally formed in 2005 and has undergone several line-up changes. Kawashima joined in 2007 and the group has featured the current members since 2010 with record label Sony Music Entertainment Japan and single Cross Over (2010.12.01, ED1 STAR DRIVER).
Their final tour as the current group has been announced – 9nine LIVE 2016 BEST 9 Tour – hits three major venues,
– July 1st 2016 Zepp Nagoya
– July 19th 2016 Zepp Namba
– July 23rd 2016 Nakano Sun Plaza Tokyo (Kawashima Umika final graduation)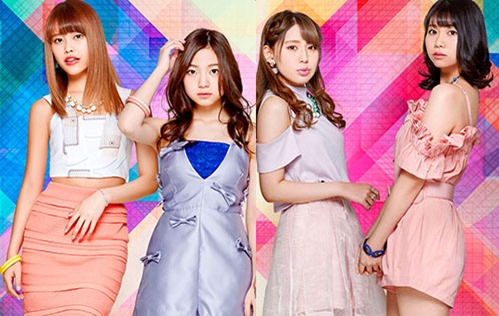 9nine will continue as four member unit with (in photo order) Yoshii Kanae (吉井香奈恵) and Murata Hirona (村田寛奈) who joined in 2010 and Satake Uki (佐武宇綺) and Nishiwaki Ayaka (西脇彩華) who joined as original members in 2005.
Album Best9 comes on four editions (details subject to change). Limited C includes deluxe photo book. Jacket covers and more details coming.
Preview music video for newest single Ai Ai Ai.
9nine – Best9 – release date June 22nd 2016
Limited A [CD+BD] (¥3704)


Limited B [CD+DVD] (¥3704)


[CD]
1. Cross Over
2. SHINING☆STAR
3. Natsu wanna say love U
4. Tick Tock☆2NITE
5. Shoujo Traveler  
6. Ryuusei no Kuchizuke  
7.  Iiaru! Kyonshi feat. Haohao! Kyonshi Girl
8. Brave
9. White Wishes 
10. colorful
11. Evolution No.9 
12. Re:  
13. With You / With Me 
14. HAPPY 7 DAYS 
15. MY ONLY ONE 
16. Ai Ai Ai

[BD] Music video collection 
1. Cross Over
2. SHINING☆STAR
3. Natsu wanna say love U
4. Tick Tock☆2NITE
5. Shoujo Traveler
6. Ryuusei no Kuchizuke    
7.  Iiaru! Kyonshi feat. Haohao! Kyonshi Girl
8. Brave
9. White Wishes
10. colorful
11. Evolution No.9
12. Re:
13. With You / With Me
14. HAPPY 7 DAYS
15. MY ONLY ONE
16. Ai Ai Ai

[CD]
1. Cross Over
2. SHINING☆STAR
3. Natsu wanna say love U
4. Tick Tock☆2NITE
5. Shoujo Traveler
6. Ryuusei no Kuchizuke
7.  Iiaru! Kyonshi feat. Haohao! Kyonshi Girl
8. Brave
9. White Wishes
10. colorful
11. Evolution No.9
12. Re:
13. With You / With Me
14. HAPPY 7 DAYS
15. MY ONLY ONE
16. Ai Ai Ai

[DVD] Music video collection 
1. Cross Over
2. SHINING☆STAR
3. Natsu wanna say love U
4. Tick Tock☆2NITE
5. Shoujo Traveler
6. Ryuusei no Kuchizuke    
7.  Iiaru! Kyonshi feat. Haohao! Kyonshi Girl
8. Brave
9. White Wishes
10. colorful
11. Evolution No.9
12. Re:
13. With You / With Me
14. HAPPY 7 DAYS
15. MY ONLY ONE
16. Ai Ai Ai

Limited C [CD+Photobook] (¥3241)


Regular [CD] (¥2778)


[CD]
1. Cross Over
2. SHINING☆STAR
3. Natsu wanna say love U
4. Tick Tock☆2NITE
5. Shoujo Traveler
6. Ryuusei no Kuchizuke
7.  Iiaru! Kyonshi feat. Haohao! Kyonshi Girl
8. Brave
9. White Wishes
10. colorful
11. Evolution No.9
12. Re:
13. With You / With Me
14. HAPPY 7 DAYS
15. MY ONLY ONE
16. Ai Ai Ai
[CD]
1. Cross Over
2. SHINING☆STAR
3. Natsu wanna say love U
4. Tick Tock☆2NITE
5. Shoujo Traveler
6. Ryuusei no Kuchizuke
7.  Iiaru! Kyonshi feat. Haohao! Kyonshi Girl
8. Brave
9. White Wishes
10. colorful
11. Evolution No.9
12. Re:
13. With You / With Me
14. HAPPY 7 DAYS
15. MY ONLY ONE
16. Ai Ai Ai