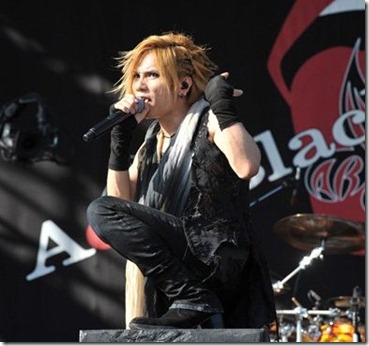 Watch or download Acid Black Cherry's live concert held back on July 23rd, 2011 at Fuji Q Highland Conifer Forest. Concert video and download links follow.
Making this concert available for free viewing or downloading is part 3 of the band's, "Thanks 4 You ABC Dream CUP 2011", to commemorate their 4th anniversary by giving a 'thank you' to all their fan support over the past four years. The first part was free Chaku-Uta download for ABC singles, and the second was the Fuji Q free concert for 40,000 fans – what is part 4?
The download and viewing stream will be available only from December 10th-19th and the download is limited to 40,000. Note the downloads are PC files in the wmv or mov format and split into 3 x 40 minute parts and each file is approximately 1.1GB in either format.
The download site: http://acidblackcherry.webcdn.stream.ne.jp/www11/acidblackcherry/
Download times could be long depending on your connection speed and other fans downloading (go for part 3 first).
A better option might be to view the stream at Acid Black Cherry's streaming site or at the ABC's YouTube channel though its broken up into 30 separate videos for the streaming. Part 1b is below,
Concert set list
1. Visions of Winter
2. Paradise
[MC 1]
3. Ⅲ girl's prayer
4. Alibi ~ God's Crime and Punishment ~
5. 1954 LOVE / HATE
[MC 2]
6. not love you
7. Bit Stupid
8. Cherry Cherry
[MC 3]
9. cord name [JUSTICE]
10. Re: birth
11. Black Cherry
12. MAGIC SPELL
[Encore 1]
[MC 4]
13. ~ Acoustic version of this blue sky beyond ~
[MC 5]
14. Maria ~ Acoustic version ~
[MC 6]
15. Pistol
[Encore 2]
[MC final]
16. DRAGON CARNIVAL
17. 20+∞ Century Boys
Source: natalie