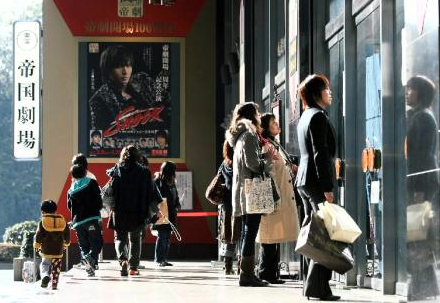 Koichi Domoto (32) shook hands with 1800 fans as he apologized for the last minute decision to cancel Sunday's SHOCK stage show performances, reportsChunichi Sports and Daily Sports Online
Following on from Saturday, Sunday's March 13 matinee and evening shows were cancelled due to stage prop safety concerns.  It has been reported the decision was made 30 minutes before the show's 1pm start.  Before a full house crowd, Koichi made his way on stage in his black training gear and greeted the audience.
"Thanks to all of you for coming here today.  The entire cast was ready for today's show.  The staff have carried out checks on every set and every piece of equipment we use to make this stage.  However, because of the large number of different devices we use on stage, and taking into consideration that we are still experiencing a number of aftershocks, we have decided to cancel  today's show.  I feel extremely frustrated at this cancellation.  I hope that you can all understand."
It has been reported that several fans started clapping their hands to let Koichi know it was alright.
The entire cast joined Koichi on stage as they bowed to the audience to apologize for the upset.
"I know that many of you have traveled a long way to come here.  Please accept my sincere apologies for this inconvenience.  I hope that you can join us on this stage again in the future," Koichi said.
Afterwards, Koichi made the decision to personally see off every fan and shook hands with each of them in the theatre's lobby.  It has been reported the singer put his hands around each fan's hand, shook it, and apologized for the show being called off.
One fan who had come from Kyoto had said it was a shame the show was cancelled but she did not think it was Koichi's fault.  Another fan had said she was surprised because the show's website had said it would run on Saturday, but she was touched by how Koichi responsibly took to the stage to apologize.
SHOCK shows were also cancelled today, but are currently still scheduled to run from March 16.
Source – MomoEdgewood