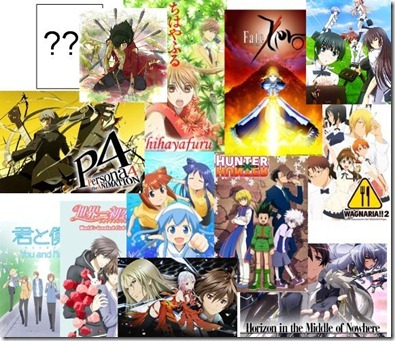 [Updated 11/01] The Anime Network (TAN) has added "Phi Brain: Kami no Puzzle!" (Phi Brain) and 2 shows already being streamed by Crunchyroll – "Majikoi – Samurai Girls" and "Mashiro-iro Symphony."
NicoNico x Funimation (niconico.com/anime) has started the previously postponed shows, "Maken-Ki", "C3", and "Future Diary." Funimation.com also started streaming episodes 1-2 of "Boku wa Tomodachi ga Sukunai (Haganai)" though this also isn't on NicoNico site (oddly). Probably growing pains of this relationship and licensing (perhaps a regional issue for Haganai's availability).
Shana III previously announced for NicoNico has no word on if it will be streamed. Price for licensing might be high and a problem for Funimation. But considering they have allowed Shana I to go out of DVD print and didn't license Shana II. All of which is inexplicable given the popularity of this franchise.
So are there any of the Fall 2011 shows not being streamed legally (besides Shana III)?
Previous updates and list of similcast Fall new shows with links after jump,
---
[Update 10/21] Crunchyroll has just add Mashiro-Iro Symphony. NicoNico.com now streaming "Guilty Crown" and "Last Exile" but delays broadcast of "Maken-Ki", "C3", "Future Diary", "Shakugan no Shana III", and "Boku wa Tomodachi ga Sukunai (Haganai)"  What! Count them up – 20 Fall anime shows streamed legally.
NicoNico.com who burst onto the outside of Japan anime streaming this past summer when they carried 6 shows and in the past 2 weeks made a major agreement with Funimation to form a partnership dubbed "Funico." Well through all of that we missed that they'd announced back on the 14th that NicoNico would  streaming 5 shows for Fall season – of those they just announced a delay on "Maken_Ki", "C3", and "Future Diary" but have said nothing about when "Shana III" and "Haganai" will begin streaming.  Some of these shows are on a 1+week delay-cast.
Much of this might be fallout because of this new partnership. But as a result of the partnership NicoNico.com will also carry "Guilty Crown" and "Last Exile." So that now make for a possible 7 shows over at NicoNico.com (http://niconico.com/anime). As a result of all this we'll replace (for now) listings for Hulu.com.
Over at Crunchyroll  – Mashiro-Iro launches Saturday the 22nd at noon PDT. Summary: "When the decision is made to merge the elite Yuihime Girls' Private Academy and the coeducational Kagamidai Private Academy, everyone wants to take extra care to avoiding trouble introducing boys into an all girls school. So instead of just sticking the all Kagamida boys into the Yuihime girls at once, a plan is concocted for a test group of boys will be inserted into the Girls' Private Academy first." And let the crazy high school boy-girl hijinks begin!
Check out our page of new and continuing series (Bleach, Naruto, Gintama, etc..) as-they-air from Crunchyroll (here).
---
[Update 10/13] Previously the Anime Network (TAN) has added "Towa no Quon" which is a 6 part OVA that begin this summer and part 6 is tentatively scheduled for sometime in November so I'm adding it to the Fall list. TAN will stream part 1 on October 13th subsequent parts will air every 2-weeks.
Crunchyroll still hints they may add at least one more show to go along with the now 10 new fall shows (UN-GO added 10/13, Majikoi – Oh! Samurai Girls! added 10/7). The Anime Network (TAN) has started 2+ simulcasts.
List updated 11/01 –
---
Phi Brain
Wednesdays 1pm PDT,
ep 1-6 will release daily to catch-up and air starting Friday 11/4 through 11/9.  All 25 episodes will air free to Guest Users
TAN
Guilty Crown
Thursdays starting 10/14 at 10:00am PDT
NicoNico
Last Exile -Fam, The Sliver Wing-
Mondays starting 10/17 at 10:00am PDT
NicoNico
Shakugan no Shana III
TBA
NicoNico
Haganai (Boku wa Tomodachi ga Sukunai) "I don't have many friends"
Fridays 10:30am PDT
Episodes 1-2 available now
Funimation.com
Maken-Ki!
Thursdays
Episodes 1-3 available now
NicoNico
Future Diary
Thursdays
Episodes 1-2 available now
NicoNico
C3
Thursdays
Episodes 1-3 available now
NicoNico
Mashiro-Iro Symphony
Saturdays starting 10/22 at noon PDT

Episode link and summary (available when shows air)

Crunchyroll
UN-GO
Thursdays starting 10/13 at 9:30am PDT

Episode link and summary (available when shows air)

Crunchyroll

Squid Girl Season 2
Mondays starting 9/25 at 10:30am PDT

Episode link and summary (available when shows air)

Crunchyroll
Hunter x Hunter
Saturdays starting 9/30 at 8:30pm PDT

Episode link and summary (available when shows air)

Crunchyroll
You and Me
Mondays starting 10/3 at 10:00am PDT

Episode link and summary (available when shows air)

Crunchyroll
Chihayafuru
Tuesdays starting 10/4 at 10:30 PDT

Episode link and summary (available when shows air)

Crunchyroll
Fate/Zero
Saturdays starting 10/8 at 9:00am PDT

Episode link and summary (available when shows air)

Crunchyroll
Wagnaria!! Season 2
Saturdays starting 10/8 at 9:00am PDT (first 2 episodes will air on 10/8)

Episode link and summary (available when shows air)

Crunchyroll
Sekai-Ichi Hatsukoi Season 2
Fridays starting 10/7 at 9:35am PDT

Episode link and summary (available when shows air)

Crunchyroll
Majikoi – Oh! Samurai Girls!(Maji de Watashi ni Koi Shinasai!!)
Saturdays starting 10/8 at 12:30pm PDT
Crunchyroll
Towa no Quon

Every other Thursday  4pm PDT
Part 1 – 10/13
Part 2 – 10/27
Part 3 – 11/10
Part 4 – 11/24
Part 5 – 12/08
Part 6 – 12/22

TAN
Tuesdays starting 10/4 8:30am PDT
TAN
Persona 4
Thursdays starting 10/6 at 10:00pm PDT
TAN
Source & Images: Crunchyroll, The Anime Network (TAN), ANN, NicoNico.com