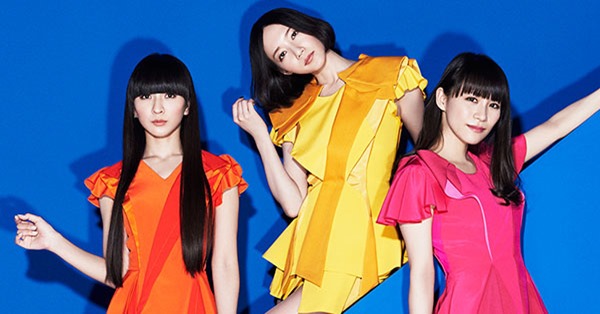 Perfume provides the theme song FLASH for live-action movies based on Chihayafuru (ちはやふる) manga. Its also a lead song on their new album COSMIC EXPLORER with 14 total tracks. Their 5th original album COSMIC EXPLORER comes on three editions hitting stores April 6th 2016. Release details plus preview music video and movie trailers follow.
Unit Perfume celebrated their 10th anniversary last year and most recently released 22nd single STAR TRAIN on October 28th 2015.
Their new album includes seven songs from singles released since 4th album LEVEL 3 (2013.10.02),
– STAR TRAIN and TOKIMEKI LIGHTS (22nd sgl)
– Pick Me Up / Relax In The City (21st sgl)
– Cling Cling and Hold Your Hand (20th sgl)
– Sweet Refrain (19th sgl)
Live-action movie Chihayafuru: Kami no Ku is adapted from manga by Suetsugu Yuki which also has two seasons of anime adaptions. The movie stars Hirose Suzu (17) as Ayase Chihaya and follows her as she attempts to compete at the highest levels of high school Karuta (competitive game of card matching by speed and memorization first introduced in Japan mid-16th century by Portuguese traders).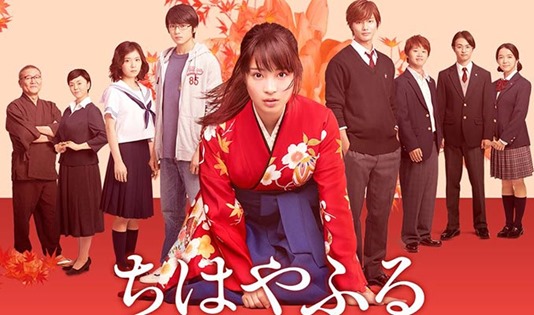 The first movie premiered March 19th 2016 and the second movie Chihayafuru: Shimo no Ku premieres April 29th 2016.
In support of the new album Perfume has announced tour dates for their Perfume 6th Tour 2016 COSMIC EXPLORER. The tour includes 5 North American performances,
– August 26th 2016 The Wiltern Los Angeles
– August 28th 2016 The Warfield (San Francisco)
– August 31st 2016 Vic Theater (Chicago)
– September 3rd & 4th 2016 Hammerstein Ballroom (New York)
Album COMSIC EXPLORER comes on three editions. Limited on Blu-ray or DVD have similar contents and include bonus CD. Bonus poster with either edition while supplies last.
Preview music video for FLASH plus Chihayafuru movie trailers after the release details.
Perfume – COSMIC EXPLORER – release date April 6th 2016
Limited A [CD2+BD] (¥4300)


Limited B [CD2+DVD] (¥3900)


[CD]        
01. Navigate
02. Cosmic Explorer
03. Miracle Worker
04. Next Stage with YOU
05. STORY
06. FLASH (Album-mix)
07. Sweet Refrain  (Album-mix)
08. Baby Face
09. TOKIMEKI LIGHTS (Album-mix)
10. STAR TRAIN  (Album-mix)
11. Relax In The City 
12. Pick Me Up 
13. Cling Cling  (Album-mix)
14. Hold Your Hand

[CD2]
1. FLASH (movie mix)
2. FLASH (original instrumental)
3. Perfume no Tada Tada Radio ga Sukidakara Radio

[DVD]
1. FLASH (music video)
2. Hold Your Hand (lyric video)
3. Cling Cling – Perfume Cling Cling World at Harajuku Astro Hall 2014.07.14
4. Pick Me Up – 66th NHK Kouhaku Uta Gassen 2015.12.31 performance and behind the scenes footage

[CD]        
01. Navigate
02. Cosmic Explorer
03. Miracle Worker
04. Next Stage with YOU
05. STORY
06. FLASH (Album-mix)
07. Sweet Refrain (Album-mix)
08. Baby Face
09. TOKIMEKI LIGHTS (Album-mix)
10. STAR TRAIN (Album-mix)
11. Relax In The City
12. Pick Me Up
13. Cling Cling (Album-mix)
14. Hold Your Hand

[CD2]
1. FLASH (movie mix)
2. FLASH (original instrumental)
3. Perfume no Tada Tada Radio ga Sukidakara Radio

[DVD]
1. FLASH (music video)
2. Hold Your Hand (lyric video)
3. Cling Cling – Perfume Cling Cling World at Harajuku Astro Hall 2014.07.14
4. Pick Me Up – 66th NHK Kouhaku Uta Gassen 2015.12.31 performance and behind the scenes footage

Regular [CD] (¥3000)


[CD]        
01. Navigate
02. Cosmic Explorer
03. Miracle Worker
04. Next Stage with YOU
05. STORY
06. FLASH (Album-mix)
07. Sweet Refrain (Album-mix)
08. Baby Face
09. TOKIMEKI LIGHTS (Album-mix)
10. STAR TRAIN (Album-mix)
11. Relax In The City
12. Pick Me Up
13. Cling Cling (Album-mix)
14. Hold Your Hand
Perfume COSMIC EXPLORER special site