September 26, 2011
-
toyNN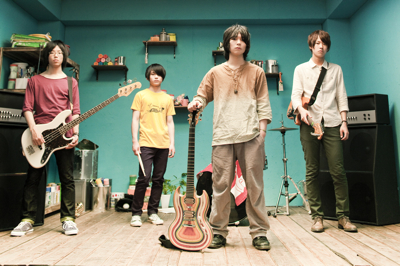 Galileo Galilei announced on their website that their new song "Asu e" (To Tomorrow) will be featured as the opening theme song for the upcoming anime series Mobile Suit Gundam AGE. The anime will premiere in Japan on October 9.
The CD for the song, the band's sixth single, will go on sale on December 7, and will be available as a ringtone for Japanese mobile phones and as a download (of the television opening edit) via Chaku-Uta on November 2. The limited-time version of the CD single will include a Gundam AGE sticker, the television edit of the song, and other extras.
The Gigazine website had listed JAM Project as the performers of the opening theme song for Gundam AGE.
A preview for the anime will air on Japan's MBS/TBS network on Sunday at 5:00 p.m. (4:00 a.m. EDT) during the Blue Exorcist anime series. Galileo Galilei had previously performed the opening theme songs for Ookiku Furikabutte ~Natsu no Taikai-hen~ and Ano Hi Mita Hana no Namae o Boku-tachi wa Mada Shiranai. The band also worked on a series of anime shorts within the Monster Rock program on the Space Shower TV music channel last year.
.