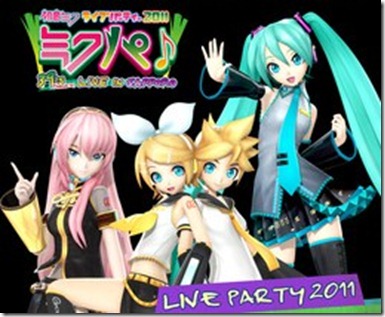 The Hatsune Miku live concert during Anime Festival Asia 2011 (AFA11) is quickly approaching. The event will be streamed live as a pay-per-view, November 11th at 3am PST, at NicoNico.com.  Previously posted details about it [here] and a screening of a previous concert in 9 US cities on November 10th.
A few more details on tickets and requirements below. If its to early in the morning for you then "timeshift" version will be available to ticket holders until November 27th though its only viewable once.
Hatsune Miku Live Party 2011 in Singapore
Price US$ 11.00
Date November 11th, 2011 
Time 3:00 PST
The ticket are available until November 25th 2011, 7:00AM(PST).
The timeshift of the video is available until November 27th 2011, 7:00AM (PST). 
Paypal for your payment.
– Please make sure that you can watch the Niconico Live show before buying the ticket.
– You can watch the timeshift until Nov.27 (JST),  You can only watch the timeshift once.
– Once you start watching the timeshift, the show would be available for 24hrs + actual show time.
– You may be banned from watching the video if you capture the show.
Source: NicoNico