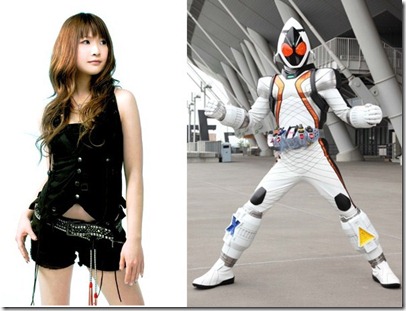 May'n and former SURFACE vocalist Yoshiharu Shiina joined forces to sing the ending theme song Giant Step for the live-action series Kamen Rider Fourze. For the collaboration they've used the name "Astronauts" which matches the themes used in this incarnation of the Kamen Rider franchise. The new ending song premiered on Sunday's 6th episode of Kamen Rider Fourze.
Kamen Rider Fourze began on September 4 as the latest entry in the popular Kamen Rider action television franchise. With an astronaut theme, "Fourze" commemorates both the 40th anniversary of Shotaro Ishinomori's franchise and the 50th anniversary of the first manned spaceflight. It is the 13th Kamen Rider series in the modern Heisei period (1989-present).
May'n is also providing the opening theme song for the new Fall anime Phi Brain: Kami no Puzzle.
Source: Mantan Web