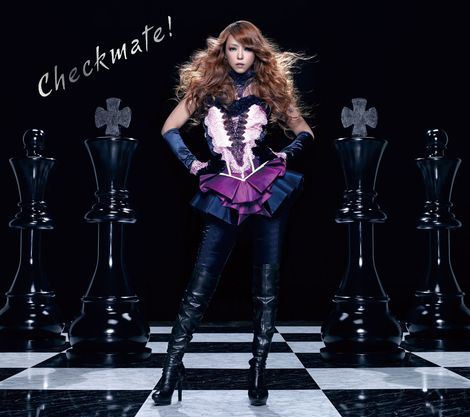 It has been announced that Amuro Namie will sing the duet "UNUSUAL" with Yamashita Tomohisa, a member of boy-group NEWS, for her upcoming collaboration album "Checkmate!". This is to be released on March 23rd andalso with K-pop singer After School 
"I was thinking to make a music video with a male artist who can both sing and dance, and it occurred to me that Yamashita would be a nice choice," Amuro said. When she eventually saw a solo performance of Yamashita on a TV music program, she was even more determined.
About the song "UNUSUAL", Amuro commented that it is the "Most UNUSUAL dance number ever". It will be included on Amuro's best-of album "Checkmate!", with other songs sung by Amuro and a variety of guest stars. Besides "UNUSUAL", another three new tracks, including "#1″ featuring CHEMISTRY's Kawabata Kaname, "Wonder Woman" featuring AI and Tsuchiya Anna, "make it happen" featuring K-pop unit After School, are on the new album.
< CD Track List >
01. Wonder Woman – Amuro Namie feat. AI & Tsuchiya Anna
02. make it happen – Amuro Namie feat. AFTER SCHOOL
03. #1 – Amuro Namie feat. Kawabata Kaname (CHEMISTRY)
04. UNUSUAL – Amuro Namie feat. Yamashita Tomohisa
05. BLACK OUT feat. Lil Wayne & Namie Amuro – VERBAL
06. FAKE – AI feat. Amuro Namie
07. ROCK U feat. Amuro Namie – ravex
08. BLACK DIAMOND – DOUBLE x Amuro Namie
09. Do What U Gotta Do feat. AI, Amuro Namie & Mummy-D – ZEEBRA
10. Luvotomy – m-flo loves Amuro Namie
11. Do or Die feat. Amuro Namie – JHETT
12. AFTER PARTY feat. Amuro Namie – ZEEBRA
13. Wet'N Wild feat. SUITE CHIC (Amuro Namie) – Heartsdales
< DVD Track List >
01. Wonder Woman – Amuro Namie feat. AI & Tsuchiya Anna
02. make it happen – Amuro Namie feat. AFTER SCHOOL
03. #1 – Amuro Namie feat. Kawabata Kaname (CHEMISTRY)
04. UNUSUAL – Amuro Namie feat. Yamashita Tomohisa
05. FAKE – AI feat. Amuro Namie
06. BLACK DIAMOND – DOUBLE x Amuro Namie
07. Do What U Gotta Do feat. AI, Amuro Namie & Mummy-D – ZEEBRA