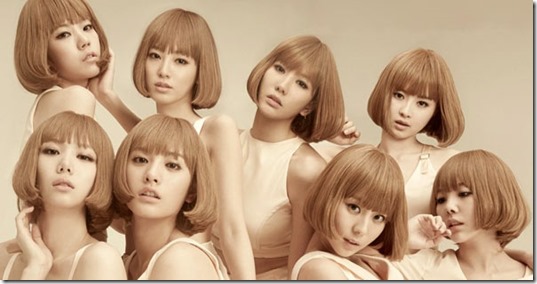 AFTERSCHOOL releases their first BEST album in Japan that includes 12 of their best songs plus 3 alternate version for 15 total tracks. The Limited "LIVE" edition includes DVD that captures their event November 22nd 2014 Laforet Museum Roppongi (21 songs). The AFTERSCHOOL BEST album comes on four editions hitting stores March 18th 2015. Read on for all the details and preview music video for SHINE.
Korean vocal group AFTERSCHOOL most recently released 2nd Japanese album Dress to kill on March 19th 2014. Since then in Japanese they've released digital-only single SHINE on November 21st 2014.
The 8 member group does have graduations and new members joining. The line-up has been stable since 2012 but at the end of December 2014 1st generation member Jooyeon announced her graduation from the group. She's done with activities in Korea but will participate with AFTERSCHOOL in Japan for the promotion of the BEST album and live events through June 2015.
Note: the group released their first Korean best album The Best of AFTERSCHOOL 2009-2012 as a result of the group changes in 2012.
Album AFTERSCHOOL BEST comes on three editions plus a Limited mu-mo shop version. The Limited LIVE & MV edition First Press versions add trading card (1 of 8 ) and b2-size ad poster. Regular edition includes 4 bonus remix tracks plus First Press version adds trading card (1 of 8 ) and b2-size ad poster.
The mu-mo shop version is tied to release event March 22nd 2015 – details just posted will have 3 parts. Part 1 (Limited mu-mo) all member high-touch and photo, Part 2 (Limited MV via mu-mo) individual member handshake and photo session, and Part 3 (Limited Live via mu-mo) individual member handshake and autograph.
Preview of new music video for digital single SHINE after the release details.
AFTERSCHOOL – BEST – release date March 18th 2015
Limited LIVE [CD+DVD] (¥6800)


Limited MV [CD+DVD] (¥3500)


[CD]
1. Bang!
2. Diva
3. Rambling girls
4. Because of you
5. Just in time
6. Lady Luck
7. Dilly Dally
8. SLOW LOVE
9. Heaven
10. Shh
11. Ms.Independent
12. SHINE
13. Bang! (Alternate ver.)
14. Diva (Alternate ver.)
15. Because of you (Alternate ver.)
[DVD]
AFTERSCHOOL Japan Tour 2014 Dress to SHINE (Laforet Museum Roppongi)

ORANGE CARAMEL
・ My Copy Cat
・ Maho Shoujo
・ Katarena
AFTERSCHOOL
・ Dress Code
・ Ms.Independent
・ FLASHBACK
・ Triangle
・ Shh
・ rock it!
・ 元気でしょう
・ When I Fall
・ Dress to kill
・ in the moonlight
・ Heaven
・ Diva
・ Bang!
・ Because of you
・ Lucky Girl
・ SHINE
・ LOVE LOVE LOVE
・ Tell me

[CD]
1. Bang!
2. Diva
3. Rambling girls
4. Because of you
5. Just in time
6. Lady Luck
7. Dilly Dally
8. SLOW LOVE
9. Heaven
10. Shh
11. Ms.Independent
12. SHINE
13. Bang! (Alternate ver.)
14. Diva (Alternate ver.)
15. Because of you (Alternate ver.)
[DVD]
Music video collection

1. Let's Do It!
2. Bang!
3. Tap Slap
4. Diva
5. Rambling girls
6. Lady Luck
7. Dilly Dally (LIVE CLIP)
8. Heaven
9. Shh
10. Ms.Independent (LIVE CLIP)
11. SHINE (Lyric Video)
12. SHINE
13. SHINE (making-of footage)

Regular [CD] (¥2500)


mu-mo shop [CD+DVD] (¥6800)

[CD]
1. Bang!
2. Diva
3. Rambling girls
4. Because of you
5. Just in time
6. Lady Luck
7. Dilly Dally
8. SLOW LOVE
9. Heaven
10. Shh
11. Ms.Independent
12. SHINE
13. Bang! (Alternate ver.)
14. Diva (Alternate ver.)
15. Because of you (Alternate ver.)
16. Just in time (Alternate ver.)
17. Tell me (Alternate ver.)
18. Heaven (Shinichi Osawa remix)
19. FLASHBACK (Otogloid remix)
[CD]
1. Bang!
2. Diva
3. Rambling girls
4. Because of you
5. Just in time
6. Lady Luck
7. Dilly Dally
8. SLOW LOVE
9. Heaven
10. Shh
11. Ms.Independent
12. SHINE
13. Bang! (Alternate ver.)
14. Diva (Alternate ver.)
15. Because of you (Alternate ver.)
[DVD]
School Festival 2014 AFTERSCHOOL at Stellar Ball
– Ms.Independent
– FLASHBACK
– Shh
– Heaven
– rock it!
– Diva
[event bonus content]
– Class Digest footage
– changing room girl talk