November 12, 2011
-
toyNN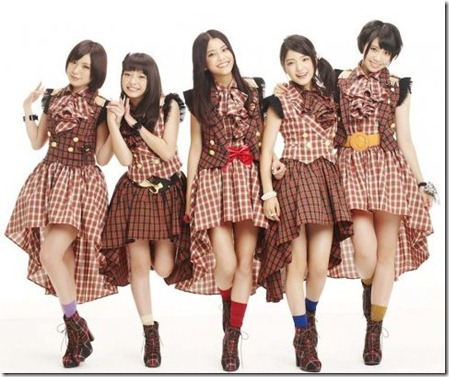 New single titled, "Chikutaku☆2NITE" (Tickling☆2NITE) from 5 member group 9nine is set for release on December 21. The title track will be featured as theme song for the NTV drama "Ranma 1/2" staring Aragaki Yui and will air December 9th (Friday) at 7pm.
The single will come in 4 editions, 3 limited each with a different DVD and a CD only version. The b-side songs are a new track titled "Angel drops" and a remix (tofubeats) of previously released song "Cross Over."  Download of ring-tone and full version will be available on Chaku-Uta beginning December 7th. More details and cover jackets follow,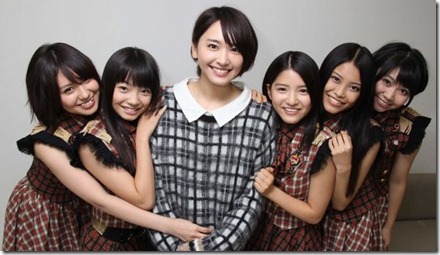 A photo session with 9nine and Aragaki (nicknamed Gakki) was held to commemorate this coupling. After the shoot each member of 9nine member expressed being fans of Aragaki.
Sataki Uki laughed as she said, "I love Gakki-san, it is this year's memory that I was able to touch her today." Member Murata Hirona comment similarly, "I was able to talk with Gakki-san for the second time, I'm so glad I was able to put my hand on her shoulder."
Nishiwaki Sayaka expressed, "Ranma 1/2 is before my generation but I've watched the reruns of the of anime. I'm grateful our song will be the theme for the new drama, and even more honored that Gakki-san is staring in it."
Aragaki then add these comments, "I'm very happy with the sound of 9nine. The theme song 'Chikutaku☆2NITE' has very youthful lyrics and Ranma 1/2 is a story about students so it will make the drama shine even more brilliantly!"
No specific CD track or DVD details yets but the cover jacket images have been released, check them out,
| | |
| --- | --- |
| Limited type A | Limited type B |
| Limited C | Regular CD only |
If you are in and around Tokyo this January you can catch 9nine live at Shinagawa Stellar Ball on January 28, 2012 in Tokyo. They'll hold two performances, one at 3pm and one at 6:30pm, all seats reserved ¥3800.
Source and images: natalie