September 19, 2011
-
toyNN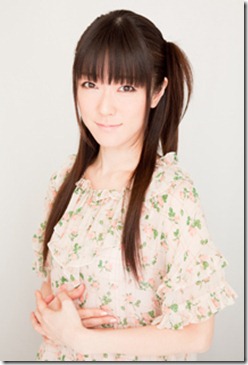 The "CRANQ" theatre project, formed by voice-acting professionals, announced that its original production, "Kenran toka Ranman toka", will feature Rie Kugimiya. The "queen of tsundere" voice actress will make her stage debut in the play, which is scheduled to run for one week – from January 31 to February 5 at the "The Pocket Theatre" in Tokyo's Nakano area.
Rie posted this quote on the CRANQ blog site,
The debut!
I've wanted this challenge a long time.
Each day there is much to learn,
everyone is working hard to put on a great show!
Please try to come to the theater..
– Rie Kugimiya
"Kenran toka Ranman toka" follows the ups and downs in the lives of four up-and-coming Japanese writers in the "Modern" Showa Period of the 1920s. There will be two different versions of the play – a Modern Boys version with an all-male main cast and a Modern Girls version with a all-female cast. The play is written by Sanae Iijima and directed by Shūichi Satō and is CRANQ's second production.
Tickets go on sale beginning October 30th.
The cast of Modern Boys Version:
  Tomonori Yoshida
  Kazutoshi Hatano  
  Hiroyuki Ueda 
  Hirotaka Nagamatsu
The cast of Modern Girls Version:
   Kumi Sakuma
   Shiho Kawaragi
   Akiko Matsuzaki
   Rie Kugimiya 
Source: Anime News Network, CRANQ