Friday November 4th episode of Fuji TV's Our music will be hosted by YUI with appearances by Goro Kishitani and Kazuyoshi Saito.
Part of the show will focus on YUI's (24) 6th album release on November 2nd, "HOW CRAZY YOUR LOVE." There will also be a talk segment with YUI regarding the movie, Midnight Sun (2006) which she stared in earlier in her career. She won the Best Newcomer award at the Japanese Academy Awards for her role as Amane Kaoru.  Her co-star Goro Kishitani in the role of her father will join and both will share memories of the time, such as first impressions of each other and some unique stories.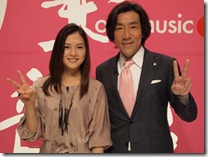 Music performances will feature YUI performing "Green a.live" and a collaboration song with Kazuyoshi Saito called "Zutto sukidatta" (Much Loved). Kazuyoshi has recently released his 15th album "45 STONES" on October 19th.
Source: natalie