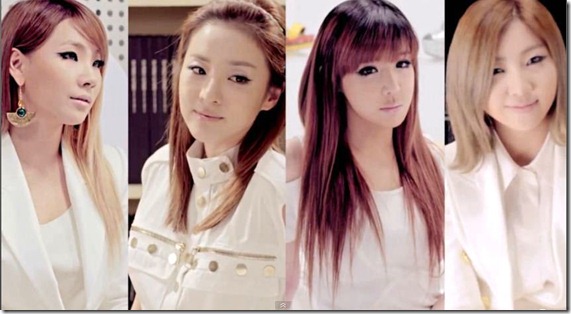 ~ updated details and preview video – jump ~
Korean idol group 2NE1 has announced a new single, their second of 2012. The new single isn't yet titled and other details are still preliminary but it does have a tie-in announced with Volume Express Magnum Cat-Eyes Mascara for its product campaign and theme song. This is 2NE1's 3rd Japanese single and its set for release on August 29th September 12th. More release information follows.
Earlier this year 2NE1 had a simultaneous release of their 2nd Japanese single "SCREAM" (release details and preview video) and first Japanese album "COLLECTION" (release details).
The girls have also recently announced a live tour for Japan, "2NE1 2nd Japan Tour"
– Sept. 1st 5pm Osaka Castle Hall
– Sept. 2nd 3pm Osaka Castle Hall
– Sept. 7th 6pm NHK Insulators Hall
– Sept. 8th 3pm NHK Insulators Hall
– Sept. 11th 6pm Yokohama Arena
– Sept 12th 6pm Yokohama Arena
2NE1 have been busy with promotions in Korea too – the INTEL Ultrabook ~ Make Thumb Noise ~ promotion ended earlier this month and had fans voting on a multiple videos with preliminary sounds. Based on the final votes, the song "BE MINE" and music video follow below the new Japanese single release information.
Their new Japanese single comes in two editions each with a First Press version:
– Limited with bonus DVD that contains music video and making-of footage.
– Regular CD-only.
First Press versions of both editions include special packaging, YGEX points, and booklet.
These details are tentative and may change. Complete information on the single will be announced so check back to Comtrya Sugoi for updates.
2NE1 – new single – release date August 29th September 12th 2012
Limited [CD+DVD] (¥2100)


Regular [CD+DVD] (¥1050)


[CD]
1-4. to be announced (tba)
[DVD]
1. tba (music video)
2. tba (making-of footage)
[CD]
1-4. to be announced (tba)