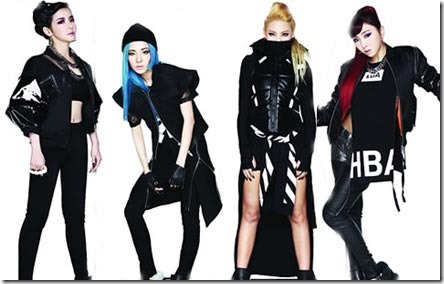 2NE1 recently announced their 2nd Japanese album (CRUSH) scheduled for release on June 25th 2014. The album is their first release in Japan in over a year and a half. Its planned for four editions including the Limited type A bundled with their new Korean album CRUSH. More early release details follow…
~ jacket covers, track list, and more revealed ~
The popular Korean vocal group 2NE1 has been busy with international tours the past two years. As part of their 2014 2NE1 WORLD TOUR ~ All OR NOTHING ~ they have 4 performances scheduled for Japan,
– July 5th & 6th 2014 Yokohama Arena
– July 12th & 13th 2014 World Hall Kobe
2NE1 most recently released Korean album CRUSH on March 7th 2014. In Japan they last released 3rd Japanese single I LOVE YOU on September 12th 2012 and their 1st Japanese album COLLECTION on March 28th 2012.
2NE1's 2nd Japanese album comes on four editions that share the same main CD track list (details subject to change). The Limited A is bundled with their new Korean album CRUSH plus photo book. The Limited A, B, and Regular include postcard(s) while supplies last.
Title, full track list, jacket covers, and more will be announced, follow Comtrya Sugoi for updates. Watch the Korean music videos for COME BACK HOME and HAPPY below the release details.
2NE1 – CRUSH – release date June 25th 2014
Limited A [2CD+DVD] (¥4800)


Limited B [CD+DVD] (¥3800)


[CD1]
1. – ? contents undecided

[CD2] Korean ablum CRUSH
1. CRUSH
2. COME BACK HOME
3. GOTTA BE YOU
4. IF I WERE YOU
5. GOOD TO YOU
6. MTBD (CL solo)
7. HAPPY
8. SCREAM
9. BABY I MISS YOU
10. COME BACK HOME (unplugged version)

[DVD]
1. – ? contents undecided

[CD]
1. – ? contents undecided

[DVD]
1. – ? contents undecided

Regular [CD] (¥2700)


Fanclub [CD+DVD] (¥3800)

[CD]
1. – ? contents undecided
[CD] 
1. – ? contents undecided

[DVD]
1. 1st Fanclub Event 2013 ~ Do You Love Me ~
2NE1 Official website (Korean)
2NE1 Official website (Japanese)