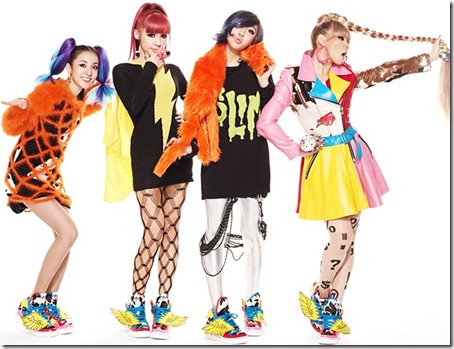 The Korean girls of 2NE1 have announced their first Japanese album and a new single – both are set for release on March 28th 2012! Previously the new single was set for release on February 29th but its been pushed back and will be released same day as the new album. The single includes Japanese all new original songs and the album tracks include Japanese versions of 2NE1's hit Korean songs plus several all new Japanese original tracks. The album and single haven't yet been titled and what details are known follow,
2NE1's first Japanese album includes 6 of their Korean hit songs newly recorded in Japanese, "GO AWAY", "I DON'T CARE", "FIRE", "I AM THE BEST", "UGLY", and "IT HURTS" plus tentatively there will be 4 additional all original Japanese songs for 10 total tracks on the album. The album comes in 3 editions plus a special CD edition with extra bonuses only available from Lawson stores in Japan.
Release details for album are follow the release details for the single….
2NE1 – new Japanese single – untitled – release date March 28th 2012
Limited A [CD+DVD] (¥1890)

[CD]
1-?. tba
[DVD]
1. tba (music video)
2. tba (video off-shoot)
[bonus]
First Press – cardboard slipcase
Limited B [CD+DVD] (¥2310)

[CD]
1-?. tba
[DVD]
1. Digest video 2NE1 TV season 3 (30min)
[bonus]
First Press – cardboard slipcase
Regular [CD] (¥1050)

[CD]
1-?. tba
[bonus]
Booklet
First Press – cardboard slipcase
 
2NE1 – new Japanese album – untitled – release date March 28th 2012
Limited A [CD+2DVD] (¥5880)

[CD]
1. tba (original Japanese song)
2. FIRE
3. I DON'T CARE
4. GO AWAY
5. I AM THE BEST
6. UGLY
7. IT HURTS
8-10. tba (original Japanese songs)
[DVD]
1. tba (music video)
2. GO AWAY (music video)
3. I AM THE BEST (music video)
4. UGLY (music video) 
[DVD]
1. Korean music video collection (60min)
[bonus]
Photobook
First Press – sleeve
Limited B [CD+DVD] (¥3990)

[CD] 
1. tba (original Japanese song)
2. FIRE
3. I DON'T CARE
4. GO AWAY
5. I AM THE BEST
6. UGLY
7. IT HURTS
8-10. tba (original Japanese songs)
[DVD] 
1. tba (music video)
2. GO AWAY (music video)
3. I AM THE BEST (music video)
4. UGLY (music video) 
[bonus]
First Press – sleeve
Regular [CD] (¥3150)

[CD] 
1. tba (original Japanese song)
2. FIRE
3. I DON'T CARE
4. GO AWAY
5. I AM THE BEST
6. UGLY
7. IT HURTS
8-10. tba (original Japanese songs)[bonus]
Booklet
First Press – sleeve
Limited Lawson's [CD] (¥5800)

[CD] 
1. tba (original Japanese song)
2. FIRE
3. I DON'T CARE
4. GO AWAY
5. I AM THE BEST
6. UGLY
7. IT HURTS
8-10. tba (original Japanese songs)
[bonus]
Booklet
Face towel, logo takeout bag
Source: 2NE1 Official website