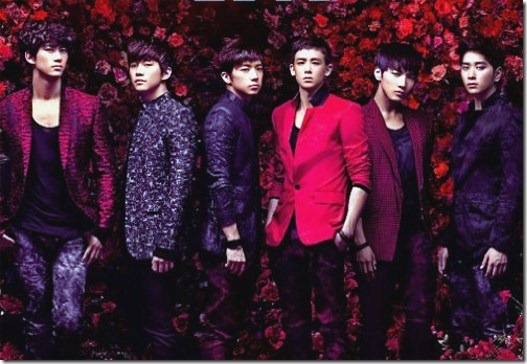 The Korean boys of 2PM have announced their first Japanese single of 2012 – "Beautiful". The single is composed by J.Y. Park (JYP Entertainment) and written by Natsumi Watanabe (BoA, Blood+) and set for release on June 6th. This will be 2PM's 4th Japanese single and second release of the year after their best hits album "2PM BEST ~2008-2011 in Korea~" released in March. All the release details on the new single follow,
The single is offered in three editions: a Limited A with bonus DVD that includes two music video versions of "Beautiful"; a Limited B with bonus 32 page photo book; and a Regular CD-only edition with extra CD track a remix version of "Beautiful".
Both Limited editions add a bonus trading card (1 of 7) while only a First Press version of the Regular edition adds the trading card.
The title track has a commercial message (CM) tie-up with "Futcho" black vinegar from Korean manufacturer SEMPIO.  The coupling track "Kimigaireba" is composed by member Junho.
2PM – "Beautiful" – release date June 6th 2012
Limited A [CD+DVD] (¥1800)


Limited B [CD+Photo book] (¥1600)


[CD]
1. Beautiful
2. Kimigaireba
3. Beautiful (off vocal)
4. Kimigaireba
[DVD]
1. Beautiful (music video)
2. Beautiful (Dance ver.)
[CD]
1. Beautiful
2. Kimigaireba
3. Beautiful (off vocal)
4. Kimigaireba
Regular [CD] (¥1200)


 
[CD]
1. Beautiful
2. Kimigaireba
3. Beautiful (Aqua blu mix)
3. Beautiful (off vocal)
4. Kimigaireba
 
2PM Official website (Korean)
2PM Official website (Japanese)